New pallet trucks make light work of heavy loads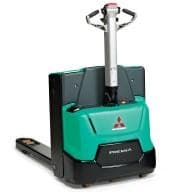 New standards … PBP16-20N2 Power pallet trucks
 
MLA Holdings has unveiled a new generation of powered pallet trucks that are setting new standards in the workplace. 
The new PBP16-20N2 pallet trucks feature waterproof wiring and connections to help increase reliability and prevent any mechanical faults.
And robust fork construction that combines robustness and agility for effortless pallet entry, helps improve productivity. 
High stability and market leading lift height, combined with linked castor wheels allow easy operation and excellent stability on uneven surfaces. It also prevents wheel damage on ramps. 
Safety features include an emergency button on the handle that also stops the vehicle when pressed – to help prevent serious injuries. 
The PBP16-20N2 Power pallet trucks are not only versatile, but they are guaranteed to make light work of transporting loads, safely, easily and more efficiently.
MLA Holdings
131 652 (MLA)