NEW PACIFIC HQ TO ADVANCE MOBILITY FOR TOMORROW STRATEGY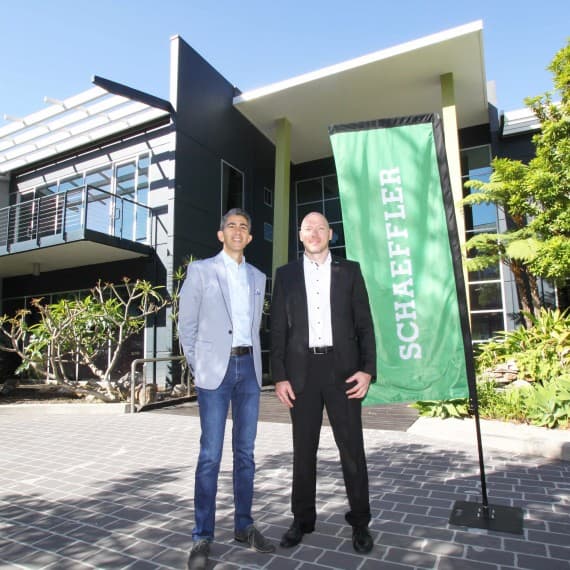 The new Schaeffler Australia HQ is opened by MD Andre Kluge (right) with CFO Amir Marashian
Bearing technology specialist Schaeffler is relocating its Pacific HQ as it develops and extends its industry 4.0 automation, digitalisation and data exchange initiatives.
The new base in Belrose, Sydney, replaces Schaeffler Australia's previous facility in French's Forest. It will become a hub driving adoption of technological advances offering safety, efficiency, reliability and sustainability benefits through engineering and technologies being introduced throughout Schaeffler's established network of operations in Australia, New Zealand and the Pacific region.
Schaeffler Australia Managing Director Andre Kluge says the Belrose facility will provide a technology focus for digitalisation initiatives, as well as a primary link with the resources of the global Schaeffler organisation, which employs more than 92,000 people worldwide, including more than 7600 at 18 research and development centres dedicated to high-performance low-maintenance bearing technology.
The new corporate HQ will operate in accordance with the global organisation's new "One Schaeffler" corporate initiative, through which the group's global automotive and industrial brands (including INA, FAG, and Luk) are united within one cohesive industry identity under the Schaeffler primary brand.
"By delivering high-precision components and systems in engine, transmission, and chassis applications, as well as rolling and plain bearing solutions for a large number of industrial applications, the Schaeffler Group is already shaping its globally respected 'mobility for tomorrow' strategy to a significant degree," says Kluge.
"The operations housed at the new HQ will extend this process by delivering the benefits of this global leadership throughout the Pacific region, reaching out to major industry sectors through specialist engineering and technology groups housed at Belrose and operating nationally.
"These engineering groups – set up to address the needs of major industry groups – are focused on utilising the cost-efficiency, reliability, safety and sustainability benefits of technologies such as Industry 4.0 and digitalisation, including automation, data analytics, machinery future performance visualisation, remaining useful life and self-learning machines."
Schaeffler Australia operations are already involved in major industrial technology and transport initiatives with industry leaders in developing automation, predictive maintenance and Industry 4.0 applications in areas such as mining and mineral processing, energy generation, public and private rail and infrastructure, utilities, manufacturing, metals, materials handling and processing in leading primary industries including food and beverage, paper and export industries.
The group has already brought to Australia technologies such as Smart QB and SmartCheck condition monitoring, Sensotect bearings in which the bearing itself contains sensors transmitting its load and condition, split spherical roller bearings and SNS bearing housings that reduce maintenance downtime, turbine mounting and wind power monitoring digital technologies.
It has also introduced digitalisation and cloud-based technologies that harness the advantages of Industry 4.0, including Bearinx software and Drive Train 4.0, which link existing technology with new digital services to take a big step further into the digitalised production and machine monitoring of the future.
Schaeffler is shaping digital transformation with a clear vision and specific solutions highly relevant to Australian industry, supported by the technical
and engineering resources housed in the new HQ, says Kluge.
Schaeffler Australia
02 8977 1000
www.schaeffler.com.au