THE NEW ONE STOP SHOP FOR ALL OF YOUR SCIENCEY MULTIMEDIA NEEDS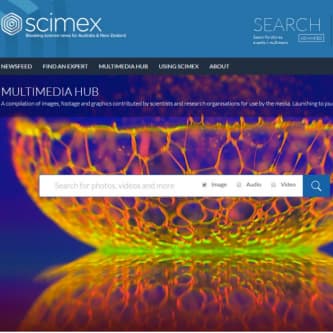 There is a new competitor in town for all your science multimedia needs, as the Australian Science Media centre has launched its new Scimex Multimedia Hub, a free collection of mixed media such as visual and audio provided by the scientific research community for editors, journalists and producers to use.
The new initiative is meant to act as a visual recourse for scientific stories as multimedia is an important part of the daily news. If it's visual or audio you're looking for, then the Hub will be an immersive resource.
"Without images, many important research stories will not get the prominence they deserve," says AusSMC CEO, Dr Susannah Eliott. "The new Scimex Multimedia Hub gets material off the hard drives of researchers and into a searchable database for the media."
Scimex will allow registered journalists to browse a newsfeed of upcoming science stories and access a searchable database. When registered on the free website https://www.scimex.org/multimedia-hub, one may pick, download and use any image of visual according to the terms of use.