NEW OLIVER GUMBOOTS OFFER EXTRA PROTECTION AND COMFORT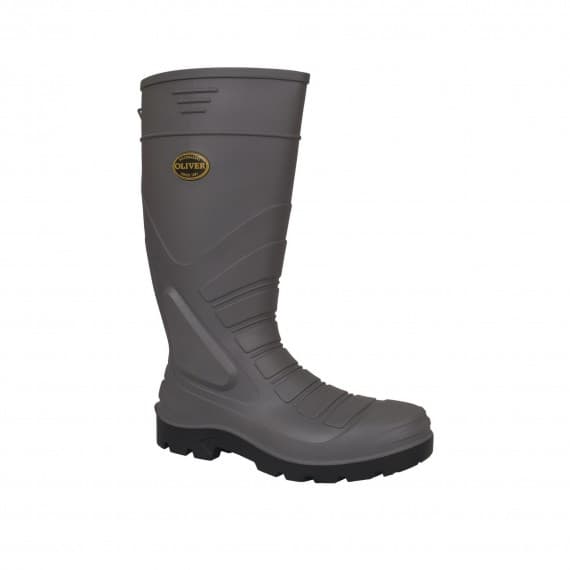 Oliver Footwear has set a new standard in comfort, safety and value with the release of its new WB 22-205 Gumboot series.
The new WB 22-205 design incorporates the best available safety features with all the comfort traditionally associated with their purposed designed safety and work site footwear and unlike other brands, the extra safety features are included in the one low price, no catches.
Key features of this new, heavy duty, safety Gumboot includes the patented METprotect metatarsal protection as a raised reinforced PVC band that wraps across the impact strike zone on the front of the boot.
Another reinforced PVC design also provides ankle joint support affording further protection from impact injuries.
Oliver has also included their NATUREform Type 1 protective toe-cap.
This traditional wider Oliver design helps avoid the toes being compressed for greater comfort.
Smart design such as reflective high visibility heels with a kick-off spur aid in the removal of the boots at the end of a hard days work and built in trouser grips, that avoid the risk of clothing working out of the boot, come as standard features.
The Gumboot also includes the STEELflex midsole incorporated within the sole structure which protects against penetrating injuries which can often occur from unwittingly standing on nails, sharps or similar risky objects.
The sole of the Oliver WB 22-205 itself is formed from heavy duty PVC/Nitrile with an extra deep sole pattern to ensure stability and with less dirt retention within the sole pattern.
Manufactured to comply with the relevant industry standards AS/NZS 2210.3 the sole design provides greater grip and stability especially on uneven ground conditions and provides superior cut, slip and crack resistance in addition to resistance to mild alkalis, some chemicals and oils and fats.
The outsole is also heat resistant to 130°C of surface contact.
The Oliver comfort system includes the unique NANOlite footbed where the gently raised surface of the footbed massages the foot by walking to create a greater blood flow to reduce fatigue.
Oliver Footwear
Ph: 1300 1 BOOTS (26 687)