New NHP app now available
31-08-2010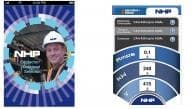 Selecting contactors and overloads for three phase electric motors is made easy with the Contactor Select App from NHP. 
By simply selecting the motor voltage and kW, the Contactor Select App will display the motor FLC (Amps) and suggest which contactor and overload to use. 
The Contactor Select App selects from NHP's premier Sprecher + Schuh brand, with contactor and overload selection made easy by providing you with the exact product number and product photo of the contactor or overload you need, as well as easy access to NHP's 1300 NHP NHP sales number and website. 
Useful for designers and electricians as a handy pocket reference tool, the Contactor Select App calculates full load current of three phase motors and allows correct product selection and overload settings to be made. 
While it is now available on the iTunes App Store and on Android applications, it is also available in a web friendly version at nhp.com.au. 
So if you don't have an iPhone or Android phone, you don't miss out!
NHP Electrical Engineering

03 9429 2999