New network processor from HMS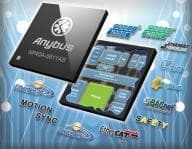 Making life easier … the Anybus NP40 network processor
The Anybus NP40 is a new network processor from HMS Industrial Networks that handles communication between an industrial device and any industrial network. 
The new processor is the core of HMS's Anybus CompactCom 40-series in chip, brick and module formats. It is designed for demanding applications, especially targeting real-time industrial Ethernet.
The NP40 comes with support for all major Industrial Ethernet and Fieldbus networks. This means that a single hardware platform can support several different networks by simply downloading new firmware. 
Consequently, there is no need to start a development project for each new network. The new technology makes life easier for device manufacturers since they can install a communication interface into a product and then simply download the firmware they need before sending their products off to the end customer. 
The NP40 enables very low latency, down to a few microseconds. It practically allows for "zero delay" between the network and host API making it possible to support high-performance applications that require synchronization or motion profiles.
Inside the NP40
The Anybus NP40 is a single chip network processor that includes a high-performance ARM core and an FPGA (Field-Programmable Gate Array) fabric. The ARM core runs the protocol and application stacks while the FPGA fabric is used to implement the various real-time Ethernet interfaces. A real-time-switch is integrated into the FPGA fabric and it supports synchronous cyclic messaging in real-time networks such as PROFINET IRT, Powerlink, EtherCAT and Sercos III. Since the network processor is flash-based, it can be re-programmed for several different industrial Ethernet networks. 
The NP40 is built on technology from Microsemi Inc. and the architecture is designed to combine performance, low power consumption and flexibility in a single chip design. 
The NP40, in combination with Anybus protocol and application software, make up the Anybus CompactCom C40 solution – a ready-made network connectivity solution on a single chip.
HMS Industrial Networks is the leading independent supplier of embedded network technology for automation devices. HMS develops and manufactures solutions for interfacing automation devices to industrial networks.