NEW MULTI-DIRECTIONAL TURNING HEADS FROM SECO TOOLS
24-12-2015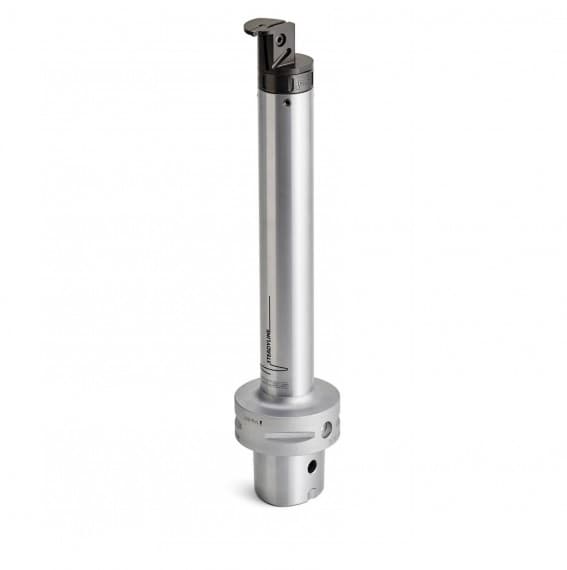 Seco's new Multi-Directional Turning (MDT) interchangeable heads for use with the Seco Steadyline® modular vibration-damping tool bar system now incorporate the company's recently developed GL Connection.
Together, the GL Connection and Steadyline bars ensure precision and superior surface finishes for grooving and turning with the new MDT heads in long-reach applications as well as those with high risk of cutting vibrations.
The extremely high-precision GL Connection allows users to quickly, easily and accurately exchange MDT heads and other types on the Steadyline bars.
Once the bar is set, tool heads can be mounted and remounted without having to reset the system.
The polylobe tapered interface of the patented GL Connection features two positions so that MDT insert cutting edges can be oriented to face either up or down for effective chip control.
Seco's Steadyline is a passive/dynamic vibration-damping system that provides effective vibration control.
Passive means no energy transfers into the holder, while dynamic refers to the fact that tool vibrations trigger the system's internal workings into action.
As such, these products can perform typical long-overhang operations faster than traditional tools, reduce spindle stress and offer high metal-removal rates, smooth part surface finishes and long tool life.
The MDT heads also offer Seco's Jetstream Tooling® coolant technology.
Jetstream Tooling is a high-pressure coolant delivery system that efficiently removes heat from the cutting zone to improve tool life, part quality and productivity.
Coolant is channeled through tooling to outlets in very close proximity to the cutting zone.
Seco Tools
1300 55 73 26