New Mosaic modules for greater safety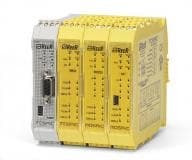 Ideal solution … Mosaic modules from Treotham
Available now the latest range of Mosaic modules allow the connection of remote I/O system expansions via MSC bus. 
This new range from Treotham Automation is an ideal solution for the interconnection of the safety functions of more machinery on a single production line. 
The units can be connected in series or in a tree network, with the maximum number of expansion units being 5.
All Mosaic modules are now also designed for use within a range of industrial IP protocols including EtherNet, DeviceNet, ProfiNet and of course, Profibus.
The software required for the Mosaic system is available as a free download from
www.treotham.com.au 
The following modules are available:
MCT1 – 1 connection interface –To install at the end or at the beginning of the network
MCT2 – 2 connections interface (1 input and 1 output) – Used as passing through or as tree network connections.
The MCTs are interconnected using the RS485 type shielded cable 4 wires + shield, allowing up to 100m per each connection. 
Treotham Automation Pty Ltd
Ph: 02 9907 1778