New Mini Load system gives maximum performance
31-08-2010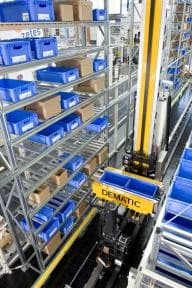 New Dematic RapidStore Mini Load (ML) systems provide increased performance for the automated storage and handling of products such as cartons, cases, totes and trays weighing up to 450kg. 
Typical uses include kitting, buffering, staging and sequencing stock in manufacturing and distribution applications.
Dematic RapidStore ML and ML+ Storage & Retrieval Machines (SRMs) provide the ideal interface between bulk reserve stock and online stock in picking and assembly applications. They can be designed to meet height and throughput constraints, and tailored to meet any storage and handling requirements. 
Whether it is in a distribution centre or raw materials store, efficiently breaking goods down from bulk unit loads like pallets to smaller loads for picking or kitting is often key to effective operations. 
RapidStore ML and ML+ systems can be integrated with a comprehensive range of conveyors, diverts, merges and accumulation conveyors, as well as a full range of conveyor sorting systems, to transport stock to and from the system in precisely the right sequence to meet the exacting needs of high-speed kitting and order fulfilment applications.
High-speed RapidStore SRMs are fitted with new generation load handling devices (LHDs) to quickly select, retrieve and put-away a variety of containers holding stock across a wide range of applications.
Designed for ultra high-speed load handling, RapidStore LHDs use precision telescoping arms and belt drives to handle goods quickly and effectively, and are available in fixed or flexible variants allowing the handling of multiple load sizes. 
A wide range of LHDs enables the efficient handling of single, double or triple loads in side-by-side or stacked configurations on double-masted SRMs, making it possible to handle and transfer up to six loads simultaneously for optimum performance. 
Single-masted SRMs can handle up to four loads at a time.
Clever design minimises the distance between storage systems and the load, providing better overall space utilisation. 
Smart Location Control Software (LCS) interfaces with the user's warehouse management or enterprise resource planning (WMS/ERP) system, ensuring full system accountability and a high degree of management control. 
Controls provide systems visualisation with a user-friendly interface displaying order status, as well as service diagnostics.
There are six models available in the RapidStore ML family.
Dematic Pty Limited
Ph: 02 9486 5555