New mini impact wrench speeds production
31-08-2010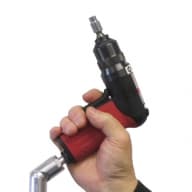 The new Shinano SI-1310S mini impact wrench from Industrial Air Tools is designed to improve productivity through greater manoeuvrability.
The Shinano SI-1310S is ideal for light assembly or service work.
Fitted with a ¼" square drive anvil this tool takes a large range of small hexagon sockets and screwdriver bits to suit various screw heads.
When set up with an Alliance Uniswivel and Hy-flex PU whip hose the SI-1310S, which weighs only 630g, minimizes wrist strain and operator fatigue.
Other features of this high quality Shinano production tool are a feather touch trigger for ease of control and a composite handgrip for vibration absorption and insulation from the cold metal air motor. 
The maximum bolt capacity of the SI-1310S is 8mm and maximum torque 40Nm (30ft lb).
Industrial Air Tools
Ph: 1800 62 72 82