NEW MANUFACTURING TECHNIQUE: SPRAY-ON SOLAR CELLS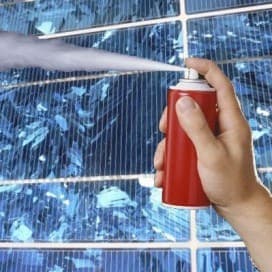 In a major step toward making spray-on solar cells easy and cheap to manufacture, researchers have invented a new way to spray solar cells onto flexible surfaces.
The new system called SprayLD blasts a liquid containing miniscule light-sensitive materials known as colloidal quantum dots (CQDs) directly onto flexible surfaces, such as film or plastic, like printing a newspaper by applying ink onto a roll of paper.
Solar-sensitive CQDs printed onto a flexible film could be used to coat all kinds of weirdly shaped surfaces, from patio furniture to an airplane's wing.
A surface the size of your car's roof wrapped with CQD-coated film would produce enough energy to power three 100-Watt light bulbs or 24 compact fluorescents.
Until now, it was only possible to incorporate light-sensitive CQDs onto surfaces through batch processing – an inefficient, slow and expensive assembly-line approach to chemical coating.
"We think of this as a no-compromise solution for shifting from batch processing to roll-to-roll," said Illan Kramer, a post-doctoral fellow at the University of Toronto in Canada.
The sprayLD method can be used on flexible materials without any major loss in solar-cell efficiency, the researchers showed.
"We were thrilled when this attractively manufacturable spray-coating process also led to devices showing improved control and purity," said professor Ted Sargent from the University of Toronto.
The findings appeared in the journals Advanced Materials and Applied Physics Letters.