New machine safety control system from Treotham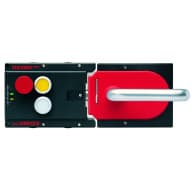 The Eichner Multifunctional Gate Box from Treotham Automation is an interlocking guard system designed for the protection of safety doors on machines and systems.
The unit features an integrated lockout mechanism with optional escape release handle, and optional buttons and indicators.
It is easily mounted on frames, grilles or profiles, and the handle can be mounted level or rotated 90˚, 180˚, 270˚ without disassembly and once linked to machine controls, the opening of the access door will be prevented until the machine has safely stopped.
Start, enable, emergency stop and other functions can be added to the basic handle/lock module to turn it into a small control terminal. This enables the unit to be used for interlocking, guard locking, escape release, and machine functions such as start/stop and emergency stop.
The modular design means that additional features can be easily added at a later date.
The optional escape release is intuitive to operate and enables persons to exit the danger area quickly and easily.
When working in the restricted area, the bolt tongue can be locked open with up to three padlocks in the integrated lockout bar, preventing unintentional activation of the interlocking/guard locking.
The system complies with safety Level e in accordance with EN ISO 13849-1 or SIL3 in accordance with EN 62061, and EN 1088 for protection against tampering.
An LED display provides continues information on system status.