New load cell module now available
31-08-2010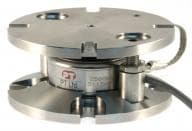 Simple mounting … Accupoint Static Weigh Module 
The Accupoint Static Weigh Module from Hi Weigh Australia is now available in nine different capacities.  
This allows tanks, vessels, conveyors, hoppers, drums, silos and most structures to be connected into a weighing scale, level controller, or sophisticated weigh/batch control system.
Manufactured in New Zealand, the Accupoint is now available ex-stock Sydney.
Benefits include:
Fully stainless steel construction
IP68 sealing, fully wash down proof
Ideal for tanks and hoppers
Uplift restraint
Simple mounting
Earth bonding strap
Contace Hi-Weigh for detailed specification/data information for the Accupoint and other weighing requirements.
Hi-Weigh Weighing
Ph: 02 9605 3500