New Lencrow Stacker reaching great heights
15-02-2010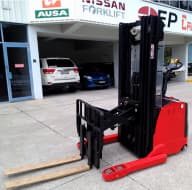 Lencrow has released its second generation pedestrian reach stacker with new improvements designed to boost productivity and improve safety.
The first series was introduced into Australian workplaces 12 months ago and following feedback from operators, Lencrow has gone back to the drawing board.
The new generation stacker now boasts improvements to operator safety and the ergonomic operation.
Designed for small to medium businesses, the equipment requires no operator licensing, just simple instruction for safe use.
Improvements include proportionate hydraulics for lift and reach as well as a new more ergonomic handle. Other features include safety rubber bumper for operator safety.
The improvements have resulted in improved reliability and easier maintenance.
Ross Grassick general manger of the Lencrow Group says: "We listen to our customer's comments and suggestions and in turn work with the factory to make better and safer equipment.
"We have been involved in the industry for 38 years and we feel it important to promote the needs of Australian users to manufacturers overseas. To that end we work directly with their engineers to ensure we get the modifications that customers want."
The unit's AC operation offers long duty cycles between charging batteries, which in turn gives these units a very good carbon footprint.
Charging has been improved with the use of automatic charges that gauge the battery condition while charging. And battery maintenance is made easy with the addition of single point watering with water gun.
The unit is available in lift heights to 5500mm and with two capacities 1500kg and 2000kg making it the ideal solution for many operations. Power steering and side shift are included.
All Lencrow equipment is backed with after sales service offering parts, maintenance and full technical advice.