NEW LEADERSHIP TEAM SETS SIGHTS ON EXPANSION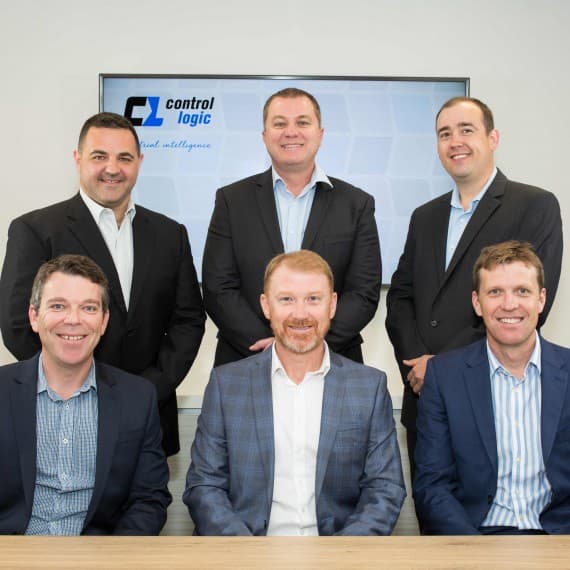 Greg, Michael and Steven Bacon (all seated) are joined by Lee Papadimitrious, Kurt Martin and Ben Allwood
Control Logic has set its sights on expansion, with a new leadership team incorporating key roles in products and marketing, sales and development, and operations and services. The move aims to increase the company's skill set and focus to drive innovation and expand the company's expertise and service.
Thanks to on-going investment, Control Logic now has a national team to support local industry Australia-wide so customers can experience the benefits that come from partnering with a local supplier. This includes strategic local stock holdings, customer training facilities and an expanding staff of technical and application experts.
Control Logic is owned and operated by brothers Michael, Steven and Greg Bacon, the sons of one of the company's founding members Geoff Bacon. Having grown up and witnessed many changes over three decades, Control Logic's Executive Director & CEO Michael Bacon is excited for the future.
"The industry is constantly evolving and shifting to suit the pace in which the world is moving, and as a result Control Logic has had to as well, " he says. "I am immensely proud of our achievements over the past 37 years, and I put that down to our strong team, core values and genuine willingness to assist our customers. I'm very excited to see where this next phase will take us."
"Control Logic is growing and growing fast by adding value to our existing products and services whilst developing entirely new and improved technologies and solutions that continue to differentiate us."
The new leadership team comprises Lee Papadimitrious (General Manager – Products & Marketing), Kurt Martin (General Manager – Sales), Ben Allwood (General Manager – Operations & Service), Greg Bacon (Executive Director), Michael Bacon (Executive Director & CEO) and Steven Bacon (Executive Director).
"We are extremely confident that through the efforts and decisions of our new leadership team, Control Logic's legacy will continue to flourish and evolve. Appointing these roles will provide the focus required to ensure our core values, that have served us so well, continue to guide us into the future," adds Michael Bacon.
Control Logic
1800 557 705
www.controllogic.com.au