NEW FROM KING: FOLDALIFT LIFT TROLLEY
04-02-2015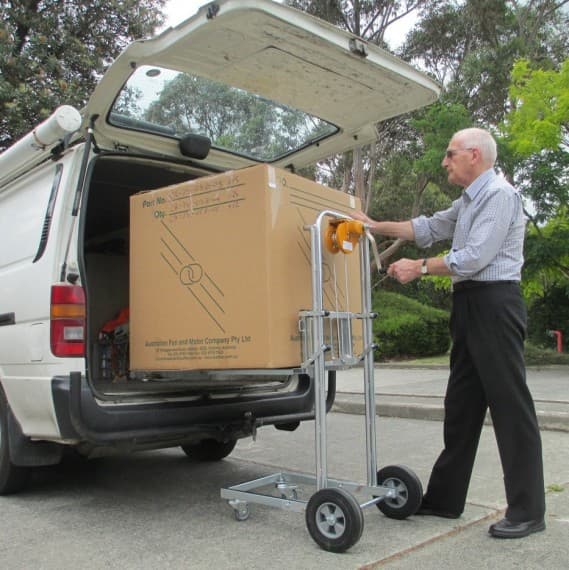 The new Foldalift trolley from King Materials Handling is ideal for raising products to van, truck, desk or bench height.
The Foldalift trolley can be used as a "pull back" (two wheels) or horizontal trolley (two wheels + two castors).
The 500sqm deck lifts from 165mm high to 1050mm high, using a hand "brake" winch that is completely silent.
With dual ball bearing 250mm diameter rear fixed wheels (with 50mm wide treads to go over grating easily), and 80mm diameter front castors with brakes, the FoldaLift Trolley is extremely versatile.
The removable deck can be stowed separately, or it can fit neatly behind the fold up legs, enabling the trolley to be stowed using minimal space in a van or truck.
On arrival, the load can be lifted from the van, then moved over rough ground or up steps, the load can then be raised to shelf or desk height.
With 130kg of capacity, the winch uses a 2:1 lift system, which means lifting the load takes half the effort of a direct lift winch system.
The trolley can rotate on its own axis, so negotiating narrow passages is a breeze.
The 250mm high deck carriage has two loops fitted to enable the optional adjustable strap to be fitted in order to constrain a load.
The unit weight is 28kg + 5kg for the deck and the overall width is 620mm, which means you will have no problem fitting through a standard size door.
The height is 1405mm and the folded depth is 450mm.
FoldaLift has a fully zinc plated silver finish for a rust free, scratch resistant long life.
King Materials Handling
Ph: (03) 9720 7181