NEW INTERFACE OPTION FOR NUM CNC SYSTEMS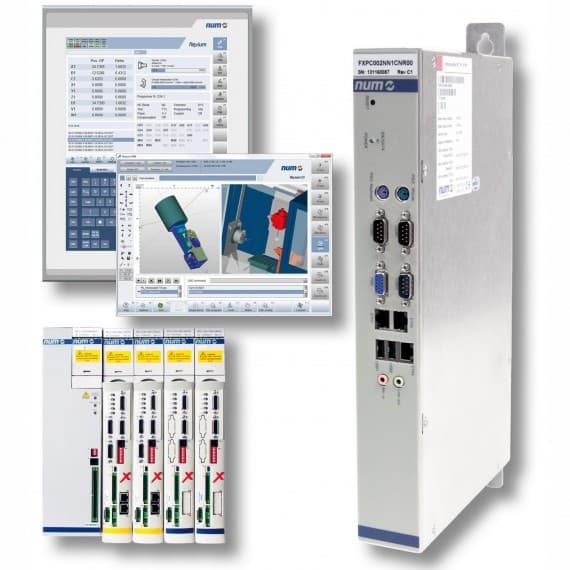 NUM has developed a new communications interface option for its CNC systems that fully complies with the open MTConnect interoperability standard.
Known as NUMConnect, the interface can be fitted to new or existing systems and simplifies the integration of CNC machine tools with third party manufacturing management software.
It enables users to implement powerful productivity-enhancing real-time data collection and retrieval facilities for production monitoring and analysis purposes.
NUMConnect allows CNC machine tool builders to add further value to their products very easily and cost-effectively, by providing uncompromised connectivity for manufacturing data.
Manufacturers are increasingly making use of data retrieved from CNC machine tools on the shop floor to improve the efficiency of their production processes.
However, until recently, the lack of a vendor-neutral data communications standard within the industry meant that CNC machine tool companies could only provide their customers with proprietary solutions for collecting and retrieving manufacturing data.
To compound the problem, most CNC systems have a closed architecture and only provide a data link via their PLC, limiting data collection to the PLC's scan rate.
The inflexibility of this approach – which also demands custom client software for each machine type – drove an industry initiative to bring Internet style connectivity to manufacturing equipment.
MTConnect is an open, royalty-free communication standard that can be used by anyone and it is rapidly becoming the preferred choice of the machine tool industry.
The standard is managed by the MTConnect Institute – a not-for-profit organisation that seeks to improve the use of real-data in manufacturing industries.
A growing number of machine tool manufacturers are adopting the standard, which is also now supported by many leading suppliers of enterprise resource planning (ERP), manufacturing operations management and production dashboard software.
NUM was one of the first CNC manufacturers to offer an MTConnect compliant interface for an entire product range, which does not require the use of third-party or custom adapters.
The company originally introduced the interface on its Axium product line in 2008 and is now making it available as an option across its entire range of CNC systems.
The underlying technology of the MTConnect standard is the same as that used by the World Wide Web.
It is based an Extensible Markup Language (XML) for capturing data that is readable by both humans and machines, with the format of all data transfers defined by hypertext transfer protocol (HTTP).
NUM's open architecture CNC systems already use similar software technology for their human-machine interface (HMI), which is based on HTML and JavaScript and employs standardised server functions to facilitate the exchange of data between the CNC kernel, PLC, drives and motors.
As a consequence, NUMConnect can read anything that is capable of being displayed on the CNC system's HMI, regardless of whether it is in analog or digital format.
Even detailed low level machine data, such as motor, drive or encoder error messages, can be retrieved and used for monitoring machine performance, preventative maintenance or diagnostics.
Developed by NUM Corporation in the US, NUMConnect is fully compliant with the latest 1.3.0 version of the MTConnect standard and is available ready fitted or as a retrofit option for all of the company's Axium, Flexium and Flexium+ CNC systems, as well as its earlier generation Power 1000 series.
The software can be installed on any standard PC equipped with Windows XP or later, and it runs in the background on any NUM industrial PC panel.