New industry minister set for the challenges ahead
31-08-2010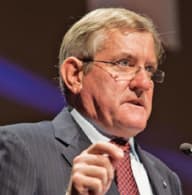 In this exclusive interview with Industry Update editor Tim Michael, the new minister for industry Ian Macfarlane addresses the major issues now confronting manufacturers.
Industry Minister Ian Macfarlane is one of the most experienced Ministers in the new Abbott Cabinet. He was the Shadow Minister for Energy and Resources in Opposition and the Minister for Industry, Tourism and Resources in the Howard Government from 2001 to 2007.
His appointment reinforces Prime Minister Tony Abbott's pre-election commitment to revive the struggling manufacturing sector.
What do you see as the main challenges now facing Australian manufacturers?
Australian manufacturers are facing significant challenges. Our domestic market is small, global demand is weak and international competition is intense.
In addition, access to global production chains is complex, difficult and highly competitive. The strength in our terms of trade continues to make it difficult for our manufacturers to compete in the global market. Our manufacturers also face the challenge of keeping up with rapid technological change and ensuring that their workers have the capability to work in the highly skilled environment of modern manufacturing.
Australian manufacturing can be competitive and create jobs, investment, exports and higher real wages. This requires a government that creates the incentives for private sector investment and jobs growth.
We will remove cost barriers for manufacturers by abolishing the carbon tax, lowering the company tax rate and cutting red tape costs for business by $1 billion a year.
Our Action Agendas will identify regulation reform priorities, investment opportunities and complementary industry initiatives focused on growth, particularly in jobs and exports.
We are also putting an extra $50 million into Export Market Development Grants to build our manufacturing export base, and introducing a $50 million manufacturing transition program to drive new opportunities for growth.
We will also review competition laws and incentives for R&D, while strengthening the anti-dumping regime.
These measures will help to ensure a viable, competitive and successful manufacturing industry for tomorrow.
CARBON TAX
What will the abolition of the carbon tax mean for manufacturers?
The carbon tax is a tax on energy use that hurts Australian industry. It effectively adds to the cost of domestic production and unfairly disadvantages Australian manufacturers relative to overseas competitors, which don't face a carbon tax. Collecting the carbon tax also entails a significant business compliance burden. Abolishing the carbon tax will provide relief to manufacturers.
It will stimulate economic growth by cutting the price of energy and reducing red tape. This will in turn help to restore business confidence and create an incentive for Australian manufacturers to invest, grow and create more jobs.
How will the Coalition Government address rising energy prices, which have had a major impact on manufacturers?
Electricity price increases over recent years have contributed to concerns over cost of living pressures and business competitiveness. The Government appreciates that for some manufacturers, access to affordable energy has been fundamental to their international competitiveness.
Unfortunately the previous Labor Government didn't make energy market reform a priority. The Coalition Government is committed to taking a co-operative and constructive approach to speed up energy market reform.
A key focus of the Australian Government is to improve the productivity and competitiveness of our industries. As part of this, the Australian Government has already begun work on repealing the carbon tax, which will reduce cost pressures for businesses, including manufacturing businesses, by reducing electricity and gas bill prices.
COAG has agreed to reforms aimed at ensuring all energy consumers, including manufacturers, aren't paying more than necessary for a reliable and secure supply of electricity in the National Electricity Market. The reforms aim to enhance the regulatory framework to ensure network expenditure is efficient, avoiding undue price pressures on electricity consumers. They will also promote greater demand side participation to minimise peak demand and associated infrastructure investments. As part of these reforms, changes to the way the national regulator's decisions are appealed, identified as a driver of rising prices, were introduced in South Australia's Parliament at the end of September 2013.
While work is underway and progress has been made in the implementation of this energy market reform package, work still needs to occur to ensure efficient energy markets and regulations that deliver enduring benefits for business and consumers. The Australian Government will work with state and territory counterparts to finalise the package of reforms. In addition, as a key part of its energy policy, the Australian Government has commenced work on an Energy White Paper and looks forward to working with the Australian manufacturing industry, and industry more generally, to identify the key issues and solutions over the coming months.
AUTO INDUSTRY SUPPORT
The Government has indicated it will provide short-term funding to help support the struggling automotive sector? How long can this support continue?
The car industry is a critical part of Australian manufacturing. I am committed to working with industry in determining options for sustaining a viable and internationally competitive car industry. I have commenced discussions with the three motor vehicle producers, as the Government prepares for a Productivity Commission review of the automotive industry. Outcomes of the Productivity Commission review will inform the Government's decisions and plans for the automotive industry.
When do you expect to receive the Productivity Commission's report into the Auto Industry?
I expect the Productivity Commission Terms of Reference to be finalised in the coming days. I then hope to receive a draft report by Christmas and a final report by mid-year.
How can local car manufacturers (Ford & Holden) improve viability? Do exports hold the key?
Exports are important to underpin production volumes and therefore the viability of local car manufacturing. It allows the domestic motor vehicle producers to achieve economies of scale which helps to reduce the per unit cost of each locally-made vehicle. Toyota is an example of a local car maker which has built a successful export market, and which now exports around 70,000 vehicles a year. This is around 70 per cent of its local production.
Unfortunately, due to a small drop in export orders, Toyota recently announced up to 100 voluntary redundancies. However, Toyota is embarking on a cost reduction strategy that should, when combined with the major facelift for the Camry, see this export drop reversed.
With that said, I want to ensure any support provided to the domestic automotive industry is targeted at the long-term sustainability of an internationally competitive and globally integrated automotive manufacturing industry.
ANTI-DUMPING
Does the Coalition have plans to further strengthen anti-dumping laws in the near future and if so, when will they be implemented?
The Government is committed to facilitating a more effective anti-dumping regime to ensure that Australian businesses can compete on a level playing field with imported goods.
In responding to the challenges facing Australian manufacturers and producers, the Government has committed to:
Transferring anti-dumping responsibilities from Customs to the Department of Industry;
Reversing the onus of proof in anti-dumping investigations in line with practices in other international jurisdictions;
Introducing more stringent and rigorous enforcement of deadlines for submissions;
Cracking down on those overseas producers who don't cooperate with anti-dumping investigations; and
Strengthening the enforcement of the provisions of the WTO Agreement on Subsidies and Countervailing Measures.
Where legislative amendment is required to implement these commitments, it will be introduced into Parliament as soon as possible.
R&D TAX INCENTIVES
Will the Coalition reverse cuts to R&D tax incentives for businesses with a turnover of more than $20bn a year?
The un-enacted taxation measure to limit access to the R&D Tax Incentive to companies with annual aggregated Australian assessable income of less than $20 billion will be considered by Government amongst a range of other similarly un-enacted measures.
INNOVATION COUNCILS
Will the Coalition abolish Labor's Industry Innovation Councils and newly established Manufacturing Innovation Precincts? If so, how can those funds be better spent?
We are committed to constructively engaging with industry through mechanisms such as the Prime Minister's Business Advisory Council, Ministerial Advisory Councils and Action Agendas.
WORKING WITH INDUSTRY
The Coalition has pledged greater collaboration between industry, academic researchers and business. How will this be achieved?
Our industry-driven Action Agendas will identify opportunities for sectoral growth including capturing the value created by Australia's researchers for national benefits. That will require better links between business, research institutions and government programs.
THE FUTURE
Finally, how can Australian manufacturing regain its competitive edge in the global marketplace?
We will remove cost barriers for manufacturers by abolishing the carbon tax, lowering the company tax rate and cutting red tape costs for business by $1 billion a year.
We will create the incentives for private sector investment in capital equipment and new technology to improve productivity and to make products that Australians and others want to buy.