Published 08-04-2021
| Article appears in April 2021 Issue
New industrial hinges powered with Super-Technopolymers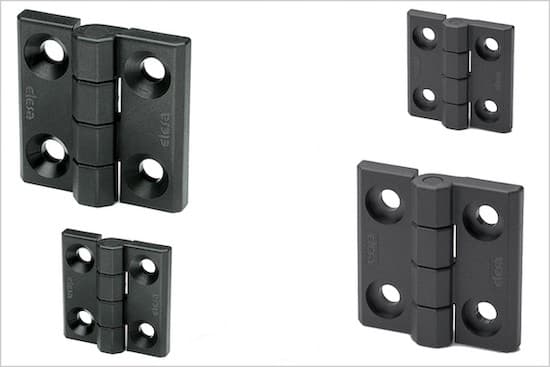 Elesa specialises in manufacturing mechanical, machinery and industrial component product lines.
Elesa has released a new range of CFMX hinges which are high-strength and corrosion-resistant, called Super-Technopolymer. Super-Technopolymers represent the latest evolution of engineering polymer materials for the industrial sector. 
Super technology polymer products are designed for all industrial hinging applications, with a clean design and simple installation making them suitable for electrical cabinets, protective screens for machining stations and retail. 
The glass fibre reinforced polyamide hinges can also be used for HVAC compartments, industrial and outdoor environments, transit cases and similar applications.
The rugged new hinges come in black, and bring the latest advanced moulding technology to standard hinges for enclosure doors, inspection and access panels, flaps and protection windows. 
CFMX hinges can be used with countersunk or cylindrical head screws, e.g. slotted, cross-head, hex or tamper-resistant equivalents, for secure fixing of flush-mounted doors and panels. 
They accommodate a maximum opening of 270 degrees, with standard sizes available in lengths of 30mm to 60mm and load capacities from 750N to 3100N dependent on the angular position of the hinge.
Further information regarding Elesa products may be found at: www.elesa.com