Published 25-03-2021
| Article appears in April 2021 Issue
New Igus Robolink takes water splashes in its stride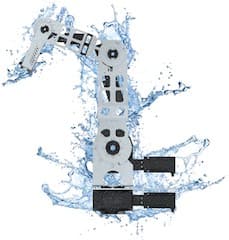 Like humans, robots don't always perform at their best in damp and wet environments. Unless, of course, they've been specially designed, as is the case with the Igus Robolink IP44 from Treotham.
The latter claims that its robot can easily and cost-effectively implement simple tasks and at the same time be allowed to come into contact with splash water.
"From discussions with customers, we learned that many users are looking for an economically affordable solution that can also be used in splash water environments, for example, when emulsions have to be removed," explains Alexander Mühlens, head of automation technology at Igus.
The new Robolink draws on the advantages offered by two materials: stainless steel and high-performance polymers. For the first time in an Igus robot, the joining links are made of V2 or V4 stainless steel and the joints of the proven lubrication-free tribo-polymers.
The user does not need an expensive additional covering, because the absence of lubrication in the joints means that no grease can be washed out and escape into the environment.
The new Robolink meets protection class IP44 at least, and is therefore resistant to splash water. It can carry up to three kilograms, has a range of 790 millimetres with five axes and can make seven picks a minute. Thanks to the use of motors with encoders of protection class IP65, the robot can also be easily used for outdoor inspection.
Further application scenarios are possible, for example, in the food and beverage industry, in the chemical and pharmaceutical sector, or even for tank and container cleaning operations.