New Hyster UT Series 4-5t forklifts target driver comfort and low total cost of ownership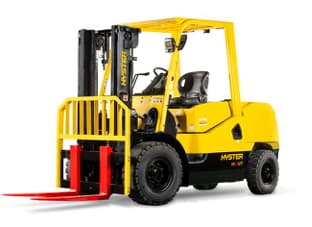 A new range of the Hyster® UT Series is being introduced to Australasia and the Asia-Pacific, to provide enhanced driver comfort and a low total cost of ownership for the forklift operator.
The new H4.0-5.0UT internal combustion counterbalance pneumatic tyre forklifts, with lift capacities from 4,000-5,000kg, complement the broader range of Hyster UT Series forklifts in providing cost-effective performance for everyday materials handling tasks.
"The H4.0-5.0UT range features the toughness and backup Hyster is known for globally, but without any advanced functionalities that aren't required for less frequently used forklifts, meaning total cost of ownership is kept low," says Hyster Area Business Director, Pacific, Mr Mark Chaffey.
"Industries that may sometimes require less frequent use forklifts – such as food and beverage, frozen produce, manufacturing, distribution and truck and transport – don't need the advanced features of 24/7 operations, but they do need a quality forklift with outstanding sales and service backup, which is what Hyster can deliver, through its distribution network," says Mr Chaffey.
"The Hyster H4.0-5.0UT range delivers an ideal solution to less frequent materials handling needs, without compromising on performance," he says.
Driver-focused features
The new H4.0-5.0UT forklifts – in 4,000kg, 4,500kg or 5,000kg models – have a number of features to further enhance driver comfort, visibility and ease of operation, including:
• A small diameter steering wheel with adjustable steer column. The 300mm steering wheel is easy to manipulate, responsive, with optimum manoeuvrability when working confined spaces. The ideally positioned steering wheel allows 8 degrees of tilt adjustment, to suit a variety of different operators.
• A high-strength profiled steel overhead guard to provide enhanced reliability and operator protection.
• Excellent through-mast visibility of the load and the operator's forward field of view, which optimises comfort, safety and productivity.
• A large access area for service and repairs, including large access space to the engine compartment to minimise downtime when servicing the forklift.
• A suspension seat for excellent comfort.
• Exchangeable components, including overlaps with other forklifts in the same range, which further optimises maintenance and spare parts inventories.
• Improved lift speed, which enables higher productivity.
Features of the new H4.0-5.0UT series. From top left, moving clockwise, small diameter steering wheel, high-strength overhead guard, large access area for service and repairs, and excellent through-mast visibility
The new machines' value proposition – "Meets the Need. Makes the Move." – relates to customers who don't need particular advanced functionality features, but prefer proven materials handling solutions backed by a supplier which they can trust – and that can provide the support of a reputable service network extending across Asia Pacific, including Australia, New Zealand, Thailand, Malaysia, Vietnam, Indonesia, Singapore, Philippines, Korea and Taiwan.
Simple serviceability and low cost of ownership
The use of high quality, robust components, efficient filtration and excellent cooling helps contribute to reliable operations and lower wear and tear. This, together with the fast availability of cost-effective replacement parts, reduces service maintenance requirements and costs.
"Due to the simplicity of components and specifications, servicing can be carried out swiftly and cost-effectively. Large access areas combined with simple, exchangeable components further optimise maintenance and minimise total cost of ownership," says Mr Chaffey.
Strong distributor network
Hyster already has a strong and long-established professional dealer and service network extending across Asia-Pacific, strength that is in turn backed by Hyster globally, which has been building relationships and partnering with customers, suppliers, dealers, and employees over many decades. www.hyster.com
The new Hyster UT series range embodies the quality features that have been at the heart of the Hyster brand for nearly 90 years, including intelligent design, product testing, quality of manufacturing, quality of suppliers and environmental emphasis.
Rather than offer one-size-fits-all solutions, the UT Series philosophy opens a discussion with customers to ask, "What are your specific needs and how long do you need to use it for on a daily basis?"
"Then our established Asia-Pacific dealer network can bring their extensive expertise to deliver cost-effective, quality solutions for individual customers," says Mr Chaffey.