New HyFlex gloves: so light, yet so tough
31-08-2010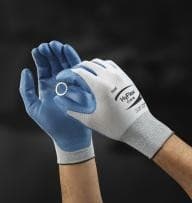 Ansell has added a new lightweight glove to its HyFlex range that provides wearers with a bare hand-like sensation without compromising cut protection or performance.
The ultralight HyFlex 11-518 glove is rated for EN Index 3 cut protection, making it ideal for precision handling and assembly of sharp, dry, ultra-fine parts. 
Building on Ansell's Grip Technology, the HyFlex 11-518 glove brings the mechanical protection properties associated with heavier duty gloves to a remarkably comfortable, cut-resistant and multipurpose 18 gauge style. 
Knitted to 18 gauge tolerances with Ansell 3D knitting technologies, the glove features soft, 
strong Dyneema Diamond Technology cut-resistant yarn and a tough PU coating to deliver a lightweight and breathable fit and feel. 
"Innovation is the hallmark of the HyFlex glove range, and the first-to-market HyFlex 11-518 is the first of several additions we are making to this popular series to bring greater comfort and protection to workers," said Mitchell Mackey, Head of Marketing, Ansell Industrial Healthcare. 
"The new HyFlex 11-518 glove emphasises Ansell's commitment to better protect workers and to increase productivity within the workplace by offering a lightweight glove that maximises dexterity, tactility and protection, Mr Mackey said.
Mr Mackey said construction workers were now often issued with leather rigger's gloves for hand protection.  
"Many workers either remove these to perform certain tasks or avoid wearing gloves wherever possible, he said. "It's because of the lack of tactile dexterity, limitations of the protective attributes of leather and other comfort factors."
Mr Mackey said the HyFlex 11-518 would be welcomed by people using bulky, leather gloves and those who have avoided wearing gloves because there was no lightweight alternative.  
"The glove has applications across industries including machinery and equipment, metal fabrication, electrical machinery, automotive and white goods, packaging, aerospace and transportation."  
Ansell
Ph: 1800 337 041