New Hyflex gloves offer 'protective second skin'
31-08-2010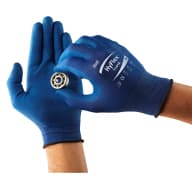 Ansell has introduced another durable glove to its highly successful multi-purpose glove range, which enables workers to feel and handle small parts, such as screws and nails.
The HyFlex 11-818 offers lightweight comfort, high abrasion resistance and the extreme durability critical for industries like automotive assembly.
According to WorkSafe Victoria, wounds to the hand represent 14 percent of all workplace injuries.  
Ansell says its unique FORTIX coating technology and ZONZ knitting technology combine in the 11-818 to deliver a strong, dry grip ideal for diverse handling and assembly tasks.
The glove's thin, contoured material is ideal for precise tasks.
The HyFlex 11-818 is also comfortable, supporting the hand to reduce fatigue without compromising on protection or durability.
The use of Nitrile foam delivers longer wear times and drier, cooler hands.
Featuring a knitted nylon-spandex liner, the 11-818 also provides natural freedom of movement for the hands and fingertips.