New Hurricane 3600 will blow you away
15-02-2010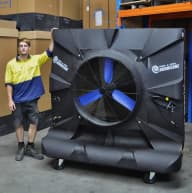 The Hurricane 3600 is the ideal portable cooling solution for most industrial applications.
Launched recently in the US and in Australia it has the greatest airflow – turnover of 7250L per sec – of any 36" fan blade unit now available.
Local suppliers Port-A-Cool almost sold its first container load of stock before it landed from the US.
The Hurricane 3600 features an all-in-one polyethylene housing, which is strong, light and virtually indestructible. 
It also boasts a direct drive motor with no belts or pulleys.
Other features include:
Low Flow Cut Out Switch – supplied and installed (This shuts down the pump if water is disrupted for any reason to protect and prolong pump life)
No metal housing to rust
Light and easy to manoeuvre – not heavy or cumbersome
No drip trays
Electrically checked and tested
Maintenance log
Digital controls and timer
Anode to the pump – rust protection
Full ongoing customer support
Also, the Hurricane 3600 has a direct streaming capability.
A standard garden hose can be plugged into the side of the unit.
And an in-built 5-6hr reservoir enables it to run without hose connection if hose/water is unavailable.
The KUUL PAD Media is three times thicker than on standard rooftop systems, giving a superior cooling output.
Pads are designed to last around five years, but with good cleaning and maintenance can last longer.
And all internal parts are replaceable and readily available, with quick connect options. This enables easy change over of parts, without the need for a tradesperson.
Hurricane 3600 unit weighs 120kg and is 195cm high, 190cm wide and 80cm deep.
All units come boxed and on a unique disposable plastic pallet.
The units come with a 1-year warranty and the High Performance Units have a 2-year warranty on the motor.