NEW HURCO MACHINING CENTRE HELPS BOOSTS PRODUCTIVITY AND QUALITY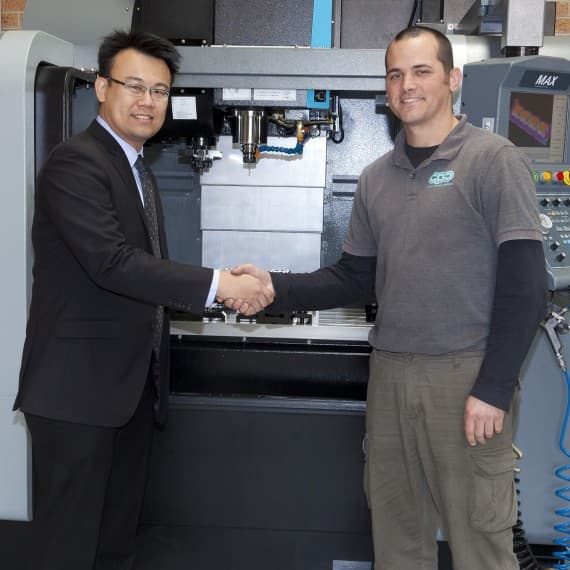 Applied Machinery, one of the oldest and most respected dealers of new and used machinery in Australia, has recently installed a new Hurco CNC Vertical Machining Centre at Custom Plenum Creations in Wollongong, NSW.
Custom Plenum Creations, a fabricator of automotive parts including high performance intake manifolds, is owned and operated by Ariel Banco.
The VMC machine was purchased to assist in production of the modified intake manifolds, converting what used to be a manual process to a fully automatic one that massively speeds up the production process.
Custom Plenum Creations designs and modifies intake manifolds for all types of engines including cars, quad bikes, and jet skis – essentially anything that is petrol or diesel powered. The modifications produce a significant boost in power.
The selection of the Hurco machine was based on Mr Banco's own personal research and feedback from other CNC users.
The exact machine, a Hurco VM20i 4-axis model was selected after lengthy discussions with Applied Machinery over an extended period of time.
The comprehensive training package that Applied Machinery provides with all new Hurco machines provided Mr Banco with an insight into the machine's many capabilities and features.
Mr Banco was delighted with the machine's user friendliness.
"For someone that had never used a CNC machine before to be able to program it from day one is testament to just how easy the Hurco machine is to use," Mr Banco said.
"The efficiency that the new Hurco machine brings is literally staggering. I simply take the design I have prepared on my computer, program it into the machine, set it in motion and walk away. The machine then carries out the modification while I can get onto other jobs," Mr Banco said.
"Aside from the huge productivity and efficiency gains, another key benefit of the machine is that it allows for far greater accuracy and repeatability. The machine can continue to do the same thing over and over again which allows me to build up stock levels thereby allowing me to supply customers immediately," Mr Banco added.
Mr Banco reports that throughout the whole pre and post purchase process Applied Machinery's service has shone through. From the initial answering of numerous questions through to the actual delivery of the machine he has found the service from Applied Machinery outstanding.
"Since I've had the machine delivered back in early July I've had two other representatives from Applied come out and check up on how the machine is performing. That's just great service," said Mr Banco.
"Quite simply, the Hurco VMC will allow me to produce the very best intake manifolds without any compromise."
With the many benefits that the Hurco Machine has already provided the future is looking bright for Custom Plenum Creations.
Mr Banco is conducting R&D into radiator and intercooling systems and other initiatives are on the drawing board.
Certainly other Hurco machines from Applied Machinery could be on the agenda.
Applied Machinery Australia Pty Ltd
Ph: 03 9706 8066