NEW HOVERBOARD BREAKS WORLD RECORD
11-05-2016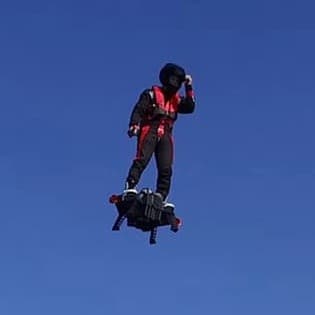 In recent years the hoverboard phenomena has taken the world by storm. With old school film Back to Future promising us the ability to ride around on hovering boards, we could be a step closer.
Stepping up to the plate is Zapata Racing's, Flyboard Air. This device unlike its predecessors uses an "Independent Propulsion Unit" capable of staying airborne for up to ten minutes. With the company claiming that it can reach a max altitude of 10,000ft, with a speed of 144km/per hour.
Franky Zapata a French jet-ski champion has focused on setting the world record for the furthest distance travelled on a hoverboard. Before Zapata the title was held by Canadian inventor, Catalin Alexandru Duru, who was able to reach a total of 275.9m.
Launching his attempt off the coast of French Riviera town Sausset-les-Pins, Zapata smashed the record with a flight of 2,252m which even included some showboating along the way.
While collecting his Guinness World Record certificate, the 37-year-old said: "This has really been a life's work."