NEW HOSE REEL RANGE SPECIALLY FOR HOSES CARRYING ADBLUE
11-09-2014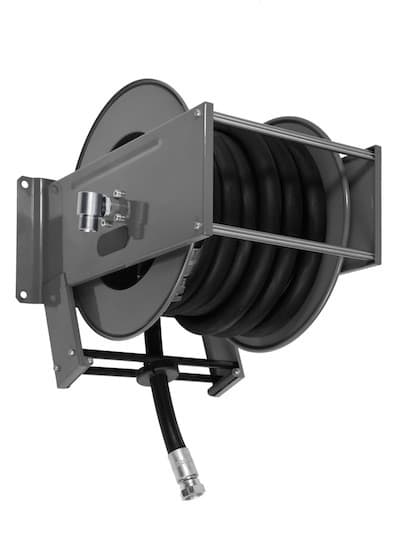 AdBlue, a diesel exhaust fluid developed in Europe, is being increasingly used throughout Australia. Consisting of 32.5% high-purity urea (AUS 32) and 67.5% deionised water, a range of specialist hose reels with parts that can tolerate its corrosive nature is now available through Tecpro Australia.
AdBlue was developed to lower the level of oxides of nitrogen in exhaust emissions from diesel engines. It is used in modern equipment and vehicles that have a selective catalytic reduction system.
Standard hose reels are not suitable for hoses transmitting AdBlue, and Tecpro Australia has recently introduced to its range, the new range of AUS 32 Retractable Hose Reels by Ramex in Italy, specially designed for AdBlue applications.
"AdBlue can be quite corrosive, however the swivels in the new Adblue carrying hose reels have special sealing material that will not deteriorate and leak," said Graeme Cooper, Tecpro Australia's Managing Director.
Cooper said that for industries working with AdBlue, the new hose reels allow them to store filling hoses neatly and safely. "The reels are available in a choice of spring or hydraulic rewind," he said. "There are a range of sizes to suit different hose lengths and diameters."
The Adblue hose reel has a working pressure of 20 bar, or on request, up to 80 bar. It accommodates hose diameters of ¾ inch, 1 inch, 1¼ inch, 1½ inch and 2 inch.
"The Adblue hose reels are constructed from carbon steel, not stainless steel," said Cooper. "This makes them more cost effective than stainless steel hose reels."
Tecpro can supply the bare hose reel or a hose reel with the hose fitted to it. A swivel bracket is also available to make the reels easier to access and use.
"Being a specialist hose reel for hoses carrying Adblue, it has applications for mining, agriculture, manufacturing, transportation and anywhere else Adblue is in use," said Cooper.
The German Association of the Automotive Industry (VDA) controls the "AdBlue" trademark and uses it to ensure quality standards are maintained in accordance with DIN 70070 and ISO 22241 specifications.
Tecpro Australia
02 9634 3370
www.tecpro.com.au