New high-speed folding doors from DMF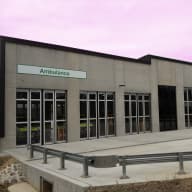 Under its licensed agency with the highly recognised German company, Efaflex, Australian company DMF International, can now offer as part of its extensive range, the High Speed Folding door.
With the ability to accommodate openings up to 6m high and 8m wide, and exposed to high wind, this door can suit a large variety of applications.
It is primarily designed for exterior openings, and offers high security, as well as good heat and noise insulation.
Energy savings increase due to a rapid action of the door panels, with speeds of up to 2m/s.
And, as an advantage over the high speed roll door, the door panels may be profiled around gantry cranes passing through the opening.
These doors can operate electrically or pneumatically, and can be activated by various forms including pushbuttons, remote control, induction loops, or motion sensors to name a few.
A closed circuit electric contact strip will prevent the door closing onto an object within the opening, and this can be further improved by motion radars if required.
The quiet and compact, low maintenance construction, guarantees a long service life for this high speed door, designed for over 150,000 cycles per year.
These doors have been installed in applications to provide solutions for emergency services, train halls, motor vehicle manufacturing.
DMF has proudly installed these doors into emergency service facilities within Australia, providing a much faster door operation than the previously used fold up counterweight doors. This increased speed of opening results in a faster response time for our crucial emergency teams, where every second counts.
Efaflex is a German manufacturer, leading the way globally with their design and technology of high speed roll doors.
DMF, which also manufacture its own high speed roll doors in Australia, has been the appointed agent for 5 years.
The company can provide design, installation and service throughout Australia. 
DMF International
1800 281 170
www.dmf.com.au