NEW HIGH PERFORMANCE INOX CUT FROM PFERD
17-01-2016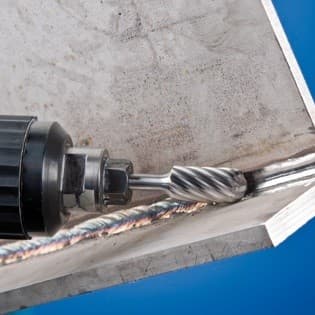 The new tungsten carbide burrs with the INOX cut for machining stainless steel give high stock removal performance, as well as being ergonomic.
The new tungsten carbide INOX cut from PFERD is an innovation when it comes to processing stainless steel.
Compared with conventional cross-cut carbide burrs, it demonstrates 100 percent higher stock removal performance on austenitic, rust and acid-resistant steels.
The INOX cut achieves high quality surface finishes thanks to optimum chip formation. Heat generation is minimised due to the open chip spaces and the associated optimum chip removal. This prevents the tool from being damaged by thermal influences, such as discolouration.
High stock removal and surface quality are fundamental requirements for cost effectiveness and efficiency: quick work with the best work results.
INOX burrs are extremely pleasant and comfortable to handle, and run smoothly with reduced vibration and less noise.
The PFERD product range includes all common burr shapes and dimensions (cylindrical shape ZYA, ball shape KUD, cylindrical shape with radius end WRC, flame shape B, pointed tree shape SPG, tree shape with radius end RBF, oval shape TRE and conical shape with radius end KEL).
PFERDERGONOMICS® recommends tungsten carbide burrs with the INOX cut as an innovative tool solution for working comfortably with considerably lower vibrations and noise.
PFERD Australia
Ph: 1300 073 373