New heights: Aussie delegation visits Terex in Germany
31-08-2010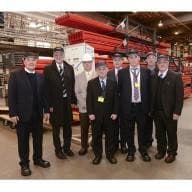 A high-ranking Australian business delegation has completed a recent fact-finding trip to Germany with a visit to Terex Material Handling's major production facility.
Representatives from major companies at Newcastle, north of Sydney and from the University of Newcastle gathered detailed information about successful German business models.
There was great interest in gaining insights into the predominant conditions influencing Germany as a business location and, at the same time, learning about best practice examples from production.
Terex Corporation is one of the world's leading suppliers of crane technology, with Demag industrial cranes and crane components.
The inspection of its Material Handling complex at Wetter, Germany, was organised by the Australian regional subsidiary of Terex Material Handling.
In a presentation to the Australian delegates, Dr Lars Brzoska, Vice President & Managing Director of Terex Material Handling said: "As mechanical engineers, we have always focused on the subject of safety.
"With the incorporation of the Material Handling business group into the Terex Corporation, the theme of product safety and occupational health and safety has gained further weight and is now even more firmly anchored in our corporate philosophy."
Dr Brzoska also addressed the development of the emerging markets in Asia.
"In China we have a large distribution and dealer network for Demag products. With our global development team we have developed new products for the mid-segment market in order to develop the potential of these markets further."
The delegates were most impressed with the Terex operation and the production location.
They also enquired about general working and economic conditions in Germany, as well as co-determination in the company and the implementation of projects in ongoing production processes.
"We work out solutions in a dialogue between the company management and employee representatives, said Dr Brzoska. "This applies to models for transition to flexible working hours and optimum organisation of work spaces."
The Australian visitors were also interested to learn more about the implementation of modern production techniques for Demag products.
They were given a detailed overview of the restructured, prize-winning production location in Wetter.
And in addition to mechanical production, the efficient production of components for the new KBK Modular Crane System, which was originally launched onto the market 50 years ago, also met with great interest.
With this modular system, Terex Material Handling is a market and innovation leader in the light crane systems market segment.
Their spokesman, Adrian Price, Australian Industry Group, explained: "Demag products also enjoy an excellent reputation and are highly regarded on our continent. We are impressed by the depth of manufacture, the high standards of quality and safety and the palpable motivation of the entire team."