New heavy-duty magnetic hanging brackets
31-08-2010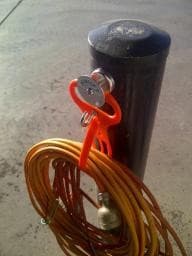 Swift Metal Services has expanded its range of brackets and hooks with the introduction of heavy-duty relocatable magnetic hanging brackets for cables, hoses and pneumatic lines.
Because Swift heavy-duty hooks are magnetic they can be relocated easily.
This ensures power leads and pneumatic hoses are supported exactly when and where necessary. 
Swift heavy-duty brackets can help to improve safety across a broad range of industrial, commercial and underground sites, including aboveground and underground mines, infrastructure tunnels and multi-story buildings. 
Australian made Swift Magnetic hanging brackets are also ideal in manufacturing applications or during project construction where long leads or hoses are used. 
Swift Hooks can be used to keep power leads safe when using any power tools such as angle grinders and circular saws. 
Swift Metal's extensive range of brackets, custom supports and parts are available in a variety of materials including mild steel, stainless steel, aluminium and zinc plate.
Swift Metal Services Pty Ltd
Ph: 1800 626 525