New heavy-duty Hafco drill packs a punch
31-08-2010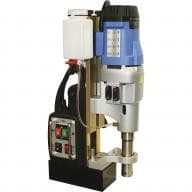 There is a new magnetic base drill on the market that is attracting plenty of attention.
The new Hafco HF-750/4 speed drill, from Hare & Forbes Machinery House, has all the strength of a heavy-duty core broach drill with the flexibility needed in a portable drill for industrial use.
This magnetic base drill can cut a 75mm diameter hole through 50mm plate with a carbide broach drill, and then can be easily converted to a powerful 3MT drill able to drill with taper shank drills to 31.5mm. 
A quick change again and a drill chuck can be added, and depending on the drill chuck size, can drill up to 16mm.
The secret to the drill's success is that the manufacturer originally specialized in electric motors.
This ensures the motors of the Hafco magnetic base drills have had the best in research and development in motor design – the heart of the machine. 
This is vital as the motor is required to cope with the stress that it is placed under with a range of processes and operators.
A powerful 1800W motor drives the cutters through a 4-speed gearbox, with speeds ranging from 90-380rpm.
The base is held firm with a magnetic adhesion of 32000N to insure that the drill remains firm when operating and a safety chain is also supplied for those places where the magnetic adhesion may be compromised.
The addition of a forward and reverse switch and the low speed allows this machine to be used as a tapping machine with a capacity to 25mm at a depth of 40mm.
The Hafco HF-750/4 is an ideal addition to every workshop where versatility is required. When it is not being used or is being transported the strong plastic case will protect this investment.
The Hafco HF-750/4 can been found at: http://www.machineryhouse.com.au/d9507
Hare and Forbes
Ph: 02 8838 3502