NEW HEADPHONES TRANSMIT SOUND INTO YOUR SKULL
23-09-2015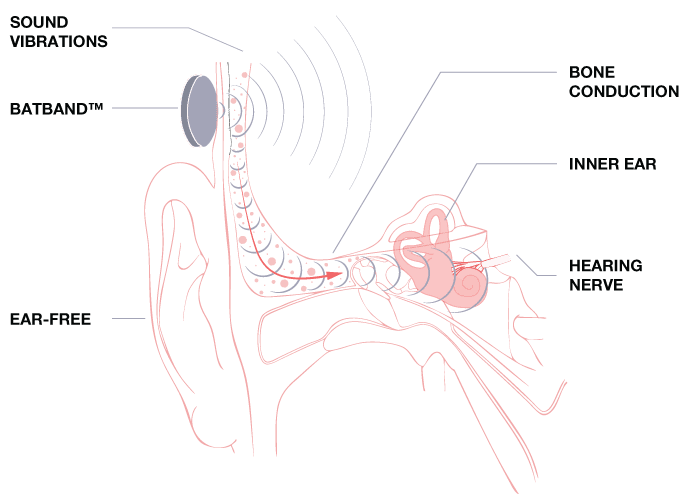 In the crowd-sourced world that has recently boomed, we have seen a multitude of products created all based on consumer demand. A new product that has recently gained traction is the "ears-free" headphone.
Inspired by bats, dolphins and othe ranimals with sonar hearing capacities, Studio Banana things has introduced the BATBAND, a new type of headphone that works with the same technology that hearing aids use.
Normal headphones cut a user off from the outside world, the BATBAND allows the music to play in your head and leaves your ears for other things.
According to the companies KickStarter page the BATBAND works via bone transducers that emit sound waves at a frequency that passes through the bones of the skull and are picked up by your inner ear and freeing the outer ear.
The three transducers that are emitting sound waves are built into the BATBAND, two on the temporal and one on the occipital bone. Which delivers what the company claims is a "a hi-fidelity bone-conduction sound experience."
The BATBAND is linked via Bluetooth to a mobile device or computer and is powered by a rechargeable, built-in, lithium-ion battery, which allows the user to have up to six hours of audio streaming.
Other features include a built in microphone, which allows for two-way communication in the form of Skype calls, regular calls and also can be used as a gaming headset.
The BATBAND is available for pre order on their website or through their Kickstarter page and should be ready by mid 2016.