Published 06-07-2021
| Article appears in August Issue
New glass keyboard focuses on robustness and hygiene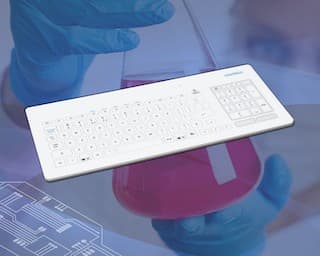 Backplane Systems Technology has unveiled GETT Asia's CK5 glass keyboard, which is a capacitive desktop keyboard with a glass surface. The CK5 keyboard is washable, rugged, splash-proof, and provides high resistance against chemicals. In addition, the CK5 glass keyboard has a compact layout and comes with a rear-side VESA mounting option.
It is said to be ideally suited to use in laboratories, where specific surfaces must withstand aggressive agents, and the floors, walls, and equipment must be washable. At all times, the focus is on a high level of hygiene in conjunction with a certain robustness of the materials used.
The CK5 keyboard ensures that hygiene is maintained since it has a completely flat gorilla glass surface which makes it washable and easy to disinfect. For extra protection, there is a key lock that disables the keyboard before cleaning.  
Key Features:
Flat gorilla glass surface
Washable and easy to disinfect
Key lock to disable the keyboard before cleaning
Compact keyboard layout
The combination of the trackpad and num-block offers an extra large touchpad
Volume and sensitivity can be adjusted individually
Rear-side VESA mounting option (200mm, 2 x M4)
EMC Compliant with EN 60601-1-2 edition 4