Product News, Materials handling, Plant & Machinery
Published 13-07-2021
| Article appears in August 2021 Issue
New-generation UHMWPE linings outperforming metals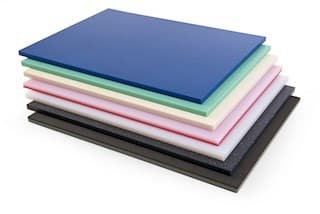 The Flex Line range includes Flex Line in mint green, which is an advanced development of the Flex 11 basic variant and has been particularly successful in mining. Picture: Wefapress
A new generation of engineering plastic from Cut To Size Plastics is typically eight times lighter than comparable steel liners used to curtail friction, wear and material flow challenges in diverse applications requiring no moisture absorption, outstanding chemical resistance and corrosion prevention.
The low-friction Wefapress Flex Line UHMWPE range from Cut To Size Plastics is part of a broad range of engineering thermoplastics that have become disruptor technologies in production engineering and bulk materials handling systems as processing plants and machinery producers focus on low-wear, low friction products that are more efficient, cleaner and quieter and less wasteful than traditional materials that wear out faster. 
The clean, easily handled product offers excellent impact resistance and flow characteristics to help prevent blockages and material hang-up. It has been particularly successful internationally in heavy duty mining, rail and transport applications, with rail cars using the liner able to carry up to 10 tons more material, says Cut To Size Plastics Managing Director Mr Laurie Green.
"Flex Line is an ultra-high molecular weight polyethylene (UHMWPE) that has been chemically modified to further optimise the material for high wear resistance and outstanding sliding properties," he says.
The dense, partly crosslinked UHMWPE, with a high 7-9.2 million g/mol molecular mass, can also be specified with anti-static and flame-retardant properties, enhancing its suitability for use in potentially hazardous environments in the resources, transport and industrial infrastructure sectors.
These light, tough liners are typically between 10-15mm thick for easy application but can be up to 40mm thick in special cases. Flex Cover panels come in different sheet sizes tailored to particular industries and are typically delivered with one side planed for simplicity of application.
Cut To Size Plastics staff have received world-class training in uses of Flex Line and other Flex Cover ranges in applications such as cargo troughs, truck and railway car liners, charging hoppers, bunkers, containers, bucket wheel excavators, transfer stations, wheel loaders, silos, belt scrapers and trough chain conveyors.
Flex Cover ranges are also used internationally in agricultural materials handling and minerals processing technologies and in processing cement, lime, gypsum, ceramics, glass, stones, soil and waste produced for disposal and recycling.
Technical staff at Cut To Size Plastics can draw on the company's engineering plastics experience of more than 40 years to advise which product is best for particular applications or as a replacement for metals that is easier to handle, fit and replace.
The speed with which the Flex Cover range can be installed and removed is also a time-saving advantage in installation and maintenance practices, optimising uptime and reducing delays where crews are working within tight time frames."
For more information, contact Cut To Size Plastics Pty Ltd by calling 1800 CUT2SIZE.