Published 19-10-2021
| Article appears in November 2021 Issue
New generation RV manufacturers like their products tough – but warm and comfortable too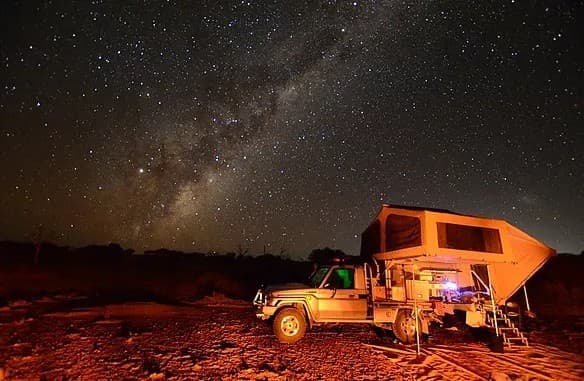 A prize-winning manufacturer of slide-on campers designed to withstand the extremes of the Australian climate and rigors of Outback tracks is finding a new generation of adventurers post-Covid is demanding more creature comforts as they venture into places they have never experienced.
Wedgetail Campers MD Darren Houston says many diehard traditional RV and 4wd owners are still happy to enjoy a basic life under the stars with the bare minimum of home comforts in the slide-ons, which fit a wide range of work vehicles used by contractors and tradesman.
But their families, partners, pets and a new generation of male and female adventurers are not – "They want built-in toilets, showers and a host of electrical appliances – it is like some of them want to take their home with them on the back of a ute," says Mr Houston, whose compact new model Hawk and larger Wedgetail camper raised eyebrows with camper media judges when they gave them awards for quality and innovation. (www.wedgetailcampers.com.au)
"One of the judges said he never thought he would see the day when a fold-out camper came with a full internal shower and toilet," he says.
This compact water heater is finding new markets locally and globally among global RV, marine and work vehicle markets because of its versatile off-grid performance and because its clean, green design cuts fossil fuel pollution in pristine places, emitting no carbon monoxide or other hazardous and flammable gases in confined spaces.
It also helps manufacturers such as Mr Houston achieve a clean-green vehicle that does not have to comply with new and increasingly rigorous regulations relating to the storage and use of gas.
Aus J Hot Water Solutions Managing Director Jay King says Mr Houston's Hawk design reflects the latest trends he is finding globally as an exporter catering to new generations of post-Covid campers setting out to enjoy their own countries – but in greater comfort than the traditional image of 4wd adventurers.
"Our OEM users of the Duoetto in Asia, Europe and the US tell us there is a strong trend to comfort and cleanliness as more women and families get involved in adventure travel vehicles and boats. The old days of a fellow going out fishing or hunting for a week in the same set of clothes doesn't cut it with new- generation male and female adventurers."
Rolling in muck
"Quite apart from making sure the kids are clean and there is hot water for the dishes, wherever they are, who wants a dirty pet dog snuffling into the RV after it has rolled in the sand, dirt, muck - or worse - and wants to shake itself?
"One thing that has taken us pleasantly by surprise is the increasing degree of interest from both OEMs and individual users concerned about the hazards of different types of heaters posed for children, animals and remote area travelers themselves. These people (and older generation travelers too) prize the pristine local environments into which they are adventuring in the emerging post-Covid local travel boom," says Mr King, whose company has sold more than 30,000 water heaters locally and globally.
The tough, Australian-designed compact and durable Duoetto MK2 water heater (www.ausj.com.au) offers selectable temperatures between 30-75 deg C (86-158F) on 240V so people can shower, wash, clean and enjoy abundant hot water whether mains power is available or not and without them having to store and carry additional fossil fuels on land or on the water.
Jay King agrees totally with Darren Houston that more comfort is essential to the best RV designs because a lot of people don't like to do it so rough any more. Increasingly, electrical power is being adopted to provide these comforts, says Mr King.
Darren Houston says all people – including traditional and new-generation adventurers – want good engineering built into their product. "Quality and durability are what we have won prizes for. But the way of the future is increasingly moving towards compact electricity, cleanliness, and environmental safety, which is what the Hawk is engineered to provide from the outset."
For further information about Wedgetail and Hawk campers, please call mob 0458130106 or email darren@wedgetailcampers.com.au
For further information about Duoetto water heaters, please call 0419 993 042 or email sales@ausj.com.au.