NEW GENERATION OF ROBOTS OFFER DYNAMIC AND SAFE SOLUTIONS
16-10-2015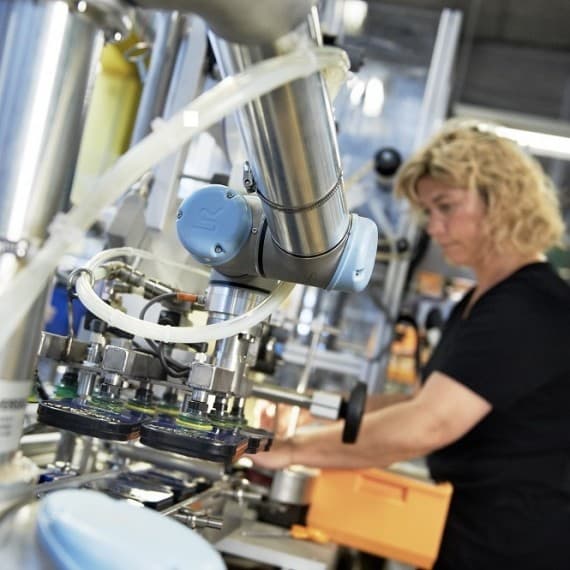 By Shermine Gotfredsen
Robots in the workplace may conjure visions of larger-than-life machines sprouting multi-colour cables, locked inside cages to keep them safely away from humans.
Whilst that may have been the case in decades past, in recent years robotic designs and applications have evolved dramatically.
The new generation of automated technology differs significantly from traditional industrial robots – not only due to their flexibility and ease of use but also because their collaborative ability enables them to safely work side by side with humans.
These traits are important considerations for any company. According to recent figures from Safe Work Australia, 40 per cent of workplace injuries are caused by body stress, often from repetitive tasks, and production works account for about 26 per cent of all Australians injured on the job.
This is where co-bots, as collaborative robots are offered called, can really shine. After risk assessments these devices can be installed anywhere on the factory floor without the need or expense of safety shielding. Once there, they work in tandem with their human co-workers to bolster overall productivity and efficiency.
Traditional industrial automation has not been an economically viable option for many manufacturers. In addition to high product and maintenance costs, many businesses cannot sacrifice the space required to safely isolate an industrial robot.
For example, space constraints and related safety concerns were factors in Singapore's PLC Industries' decision to deploy two lightweight robotic arms. The precision engineering service provider needed a solution that would allow them to automate aspects of their production lines while maintaining a safe environment for their staff who would be working within very close proximity to the robots. By offloading more tedious tasks to the robots, employees' focus and concentration levels improved, reducing the risk of accidents. In addition, the human-robot collaboration has resulted in a 40 percent increase in output.
Safety was also important to New Zealand's Talbot Technologies when choosing an automation solution for their Christchurch production line. The company opted for the more nimble form of modern robots so that employees and robots could work together and share tasks without the threat of injury. The decision was based partly on the fact that the lightweight robotic arms never exceed a force of more than 150 newtons and are equipped with a safety feature that automatically stops them when met with substantial resistance. To boot, Talbot Technologies immediately reported an increase in quality, productivity, reliability and costs savings.
New automation technologies have broken down many of the barriers that once prevented extensive human-robot collaboration. Now manufacturers of all types and sizes have the potential to implement robotic solutions that maximize productivity while ensuring the safety of their staff. 
Shermine Gotfredsen is APAC General Manager of Universal Robots Pte Ltd