NEW-GENERATION HYDRAULIC PUMPS DELIVER HIGHER FLOWS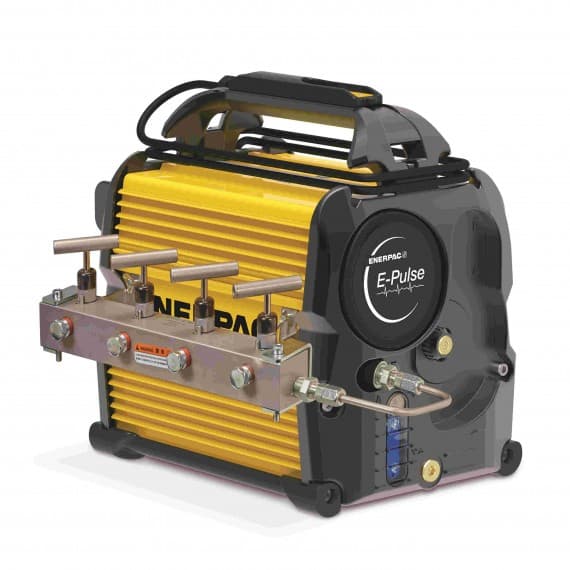 Enerpac's new E-Pulse series of durable high-efficiency hydraulic pumps deliver superior flow characteristics through innovative motor controls.
The Enerpac E-series pumps are available with five valve options and feature new smart controls that enable the motor to maintain constant power and provide higher flow than traditional 0.75kW (half horsepower) pumps.
The power, sensitivity and flexibility of the new tools make them ideal for a wide range of precision tasks, from bolting of power and pipelines, to maintenance and fabrication jobs in bulk handling, mining, oil and gas and utilities.
According to Enerpac National Sales Manager Darryl Lange, "E-Pulse pumps are designed to drive higher levels of productivity and power to a number of hydraulic tools, including torque wrenches, cylinders, cutters, pullers, presses, punches, spreaders and benders. An E-Pulse pump can serve as the heart of any hydraulic system."
"The new series of E-Pulse pumps represent the best combination of innovative features and technologies we've ever designed in hydraulic pumps of this operational class," says Lange.
A high-efficiency 0.63kW direct-drive motor incorporates a six-piston block design that provides even flow and smooth operation of tools. Models offer a choice of five valves – 3/2 jog, 4/3 jog, 3/2 dump-and-hold, 3/2 dump and 4/2 torque wrench.
Flow at rated pressure is 0.52L/min, with a maximum operating pressure of 700bar. Other features include a 24V DC power regulator, built-in thermal protection, and 6m control cord on the torque wrench pump and a 3m control cord on the other four pumps. All models come with a convenient cord management system.
A fault code indicator warns operators of any issues related to voltage, temperature, button controls or service conditions. The innovative, IP67-rated pendant fits into the handle of the pump and is secured via magnet.
The pumps feature an IP54-rated durable aluminium housing enclosing the system components for maximum protection and easy service accessibility. The precalibrated 4in gauge (100mm) torque wrench model comes with an Enerpac Spee-D Coupler that enables quicker removal for recalibration and features an integrated heat exchanger that effectively cools the pump during operation.
Enerpac
02 8717 7200
www.enerpac.com