New generation compressor from IAT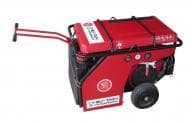 Trailer mounted compressors are essential equipment for many contractors, municipalities and hire companies. 
The downside of these compressors are access problems, space limitations, noise regulations and on-road costs and maintenance. 
The SC70 70 cfm screw compressor from Industrial Air Tools overcomes all of these issues. 
This unit is compact, hand-portable, can fit into a station wagon or ute and delivers free air of 1982L/Min (70cfm) which is enough capacity to operate a 41kg (90lb) breaker. 
Other features include a genuine Honda V-Twin OHV petrol engine, latest technology oil injected screw unit, continuously variable idle control, constant airflow and pressure, rugged construction and removable petrol tank for re-fuelling.
The fold-down handle and pneumatic tyres make it very easy to manoeuvre in and out of site elevators. 
Lifting hooks are standard, which is ideal for larger sites and wherever lifting equipment is available.
Key benefits:
•
Practical – no trailers are needed
•
Convenient – it can be taken direct to the work face
•
Cost effective – no annual registration fees or road tyres
•
Powerful – 12Kw 18HP engine output
Industrial Air Tools
Ph: 1800 62 72 82