NEW FUNCTIONALITY SIMPLIFIES COMMUNICATIONS FROM SHOP FLOOR TO BUSINESS SYSTEMS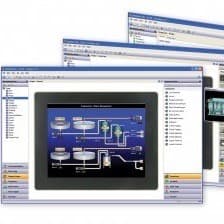 Red Lion Controls has added new capabilities to its award-winning Crimson software, including an OPC UA client driver with encrypted password support, OPC UA historical access, an MQTT connector for Google Cloud, and store and forward buffering for all Crimson cloud connectors.
With just a few clicks, Crimson 3.1's new OPC UA client driver captures the rich attributes of a target OPC UA server's data tags, such as diagnostic and performance information, unlike other OPC UA clients, which may only allow access to a pre-existing list of data items. With this added capability, most Crimson 3.1-based devices can act as both OPC UA server and OPC UA client.
"This can dramatically simplify system architectures, increase scalability and accelerate data integration initiatives with no additional hardware or expensive software customisation required," says Paul Bunnell, Red Lion's product management director for automation products.
"In addition, OPC UA Historical Access ensures the reliable transmission of real-time and historical data directly to enterprise business systems using a single, easy-to-use environment."
On devices with an SD card, Crimson's MQTT connectors can be configured to buffer data within the device when a connection to the target platform is not available. This can be set to indicate whether data should be buffered just to memory, or whether the device's SD card should be used to provide further storage that will survive a power cycle, enhancing reliability and increasing system resilience.
Crimson is available from Control Logic as exclusive Australian distributor.
Control Logic
1800 557 705
www.control-logic.com.au