NEW FASTMIG RANGE FROM KEMPPI HAS THE X FACTOR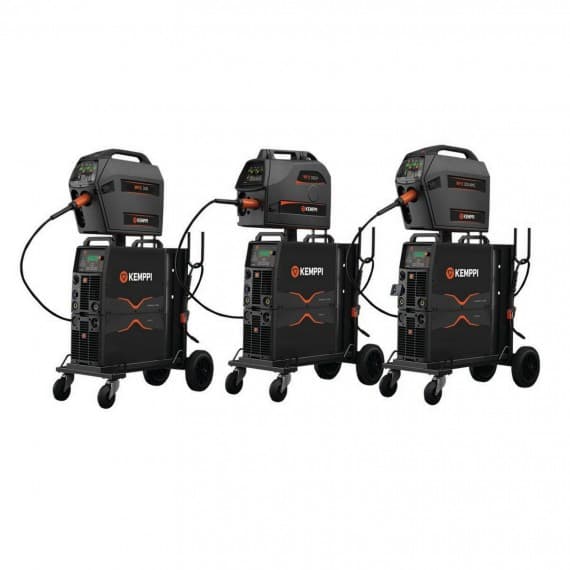 Leading international welding equipment manufacturer, Kemppi, has unveiled its new range of industrial welding equipment – the FastMig X series – to help reduce costs and improve productivity.
The FastMig X pulse welding solutions are specifically designed for demanding and rigorous industrial applications.
The FastMig X Regular is for general purpose heavy industrial fabrication. The FastMig X Pipe is for FE and stainless steel pipe welding applications and the FastMig X Intelligent is for all metals and processes including the welding of thin sheets.
All three models can be upgraded and optimised for specific professional welding applications thanks to a range of optional software packages and components.
The onboard arc optimisation software empowers the welder and management as it provides greater flexibility and control over the welding machine to minimise the need for rework and increase productivity.
Easy to use and set up, the FastMig X range is also highly versatile. It lets you connect two wire feeders for a very rapid change in welding processes, and filler wire type and size, saving you time.
Also, when the ArcVoltage feature is enabled, the FastMig X automatically displays the actual arc voltage so that welding values can remain inside the predefined range regardless of the size and length of the cables.
This helps to reduce the need for rework and saves on time and costs.
The FastMig X Regular is designed for basic pulse MIG welding, especially for robust metal plates and thick base materials.
It suits demanding welding tasks in industrial welding applications at a workshop or construction site.
In addition to MIG/MAG and Synergic MIG welding processes, it also has pulsed and double-pulsed MIG as a standard.
The FastMig X Pipe is specially designed for pipe welding. It is also suitable for plates and fast root welding from one side. It produces an excellent quality weld, especially when running open gap root passes on pipes or plates without using backing support. WiseRoot+ is up to five times faster than TIG in root welding and three times faster than Synergic MIG.
Highly reliable, the strong and precise twin-motor wire feed mechanism ensures a quality welding result in even the most demanding welding environments.
The FastMig X Intelligent is suitable for all high-end welding applications, all metals and processes, including the welding of thin sheets. It is perfect for all demanding welding tasks in any industrial welding application at a workshop, shipyard or construction site. The FastMig X Intelligent has a DuraTorque DT wire feed mechanism and a full palette of welding programs for various purposes, filler wires and shielding gases to give the welder greater flexibility and control over completing different welding tasks to a high standard.
Additionally, Arc Mobile Control software for Android mobile devices can be used for easy monitoring, control and adjustment of welding parameters and settings.
Once set, the settings can be copy-pasted from one welding machine to another.
Powerful, reliable and feature rich, all three models are equipped with either the FastMig X350 or the FastMig X450 power source which is a multi-process CC/CV power source that is ideal for synergic and pulsed MIG/MAG welding, MMA and TIG welding.
Kemppi Australia
Ph: 02 8785 2000