NEW FACILITY READY FOR FAMILY FIRM'S 20TH ANNIVERSARY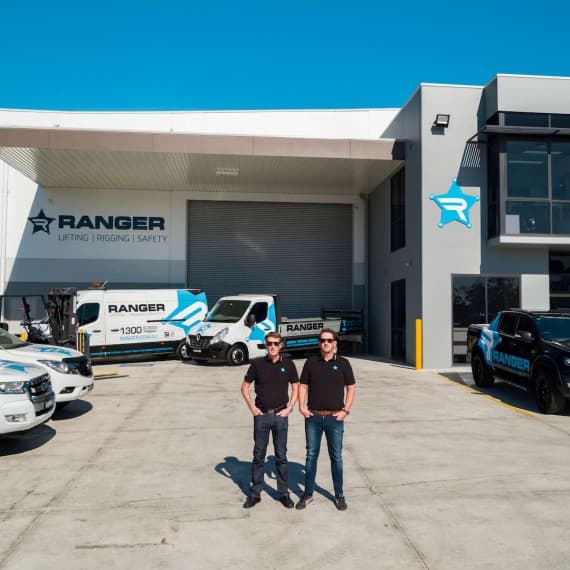 Steve and Ashley Thacker outside the new facility in Prestons
NSW-based Ranger Lifting is set to mark 20 years in business at a brand new facility in Prestons, outside Sydney on Saturday 22nd September 2018.
The lifting and rigging equipment supplier, which also recently opened a site in Melbourne, will combine the grand opening of its new headquarters, 40km southwest of Sydney's central business district, with a day of celebrations.
Family-owned Ranger will be represented on the day by MD Steve Thacker, his wife, QA Manager Verity Thacker, and son Ashley Thacker, the General Manager who recently completed 16 years at the firm.
"A very high percentage of businesses do not make it past the first year and nearly all do not make it to five years," says Ashley Thacker. "So making 20 years is a huge achievement and we wanted to celebrate not only what we have built in that time but everyone that has played a part. Our staff are a huge component of the success of Ranger but suppliers, clients, and a whole range of other business connections have helped us get where we are today."
Steve Tacker adds: "A big portion of our clients have become great friends. Business is not just about buying and selling to a person or firm; it is about working together to understand needs and expectations. Relationships have been integral to the success of our business. We're not inviting clients to celebrate with us - we're inviting friends. Many of them have grown alongside us and it'll be interesting to chink glasses and reminisce somewhat, although the focus of the event is as much about looking forward as it is reflecting on what has been."
"Like any business, or life in general, nothing is plain sailing," says Verity Thacker. "The relationship between Steve and Ash in both the business world and personal life is just amazing. As a mother and partner I could not be more proud of them both. It's a personal perspective but within the grander celebrations in September, there'll be many such stories, which makes it all the more important to invest in marking this milestone."
Ranger Lifting
1300 SLINGS
www.ranger.com.au