NEW EXTRUSION BLOW MOULTING MACHINES FROM BELKUM
05-03-2016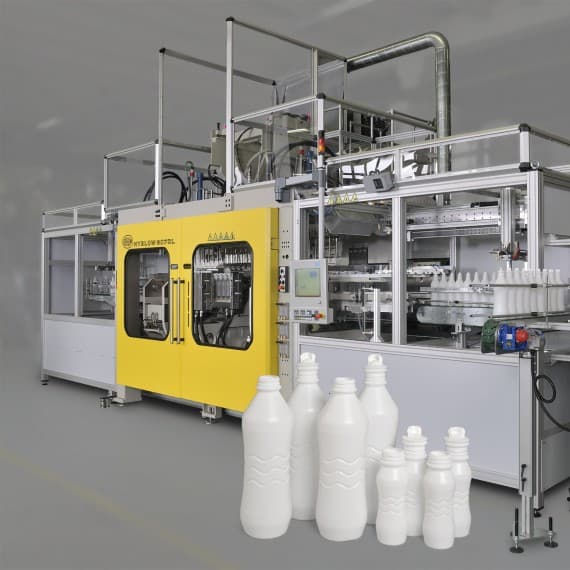 The current BEKUM packaging machine series, with its patented and proven C-frame closing unit for electrical and hydraulic closing actuators, has been expanded by two additional models.
BEKUM has expanded its packaging machine series with the HYBLOW 407 DL and HYBLOW 607 DL, providing a range of benefits that increase energy efficiency, performance, and capabilities in production.
New screw geometry enables the optimized processing of viscous high-density polyethylene (HDPE) with pigments such as titanium dioxide.
The new design of grooved bushing, feeding zone and barrier geometry allows a 20% increase in the output with improved service life and lower wear due to the uniform load distribution over the entire screw length. This improves the homogeneity of the compound without an additional, costly mixing component.
About 70 to 80% of the energy used in a blow moulding machine is consumed in melting and cooling the plastic required for processing. The optimized extruder screw lowers the energy consumption required to melt the HDPE to a mere 200 Wh/kg. At the same time, the drive train of the extruder is also optimized so that the motor runs with the highest efficiency at a nearly optimal operating point.
In addition to the energy benefits, the machines also provide smooth production start-up, and uniform extrusion of products, ensuring reproducible article quality in terms of wall thickness distribution and weight.
BEKUM
Web: www.bekum.de/en/