NEW EXO SKELETON ALLOWS PARALYSED TO WALK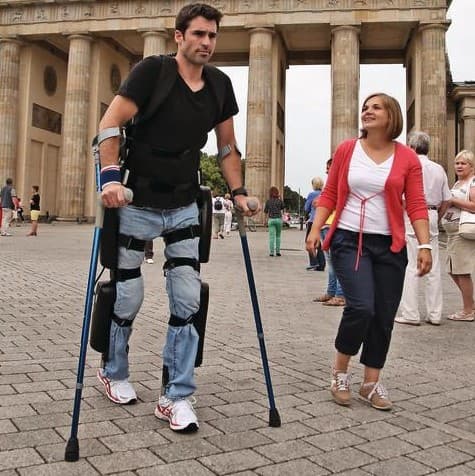 A year after the world watched a paraplegic walking onto the pitch at the soccer World Cup and takes the first kick; there is a new contender in the world of robotic exoskeletons, ReWalk Robotics, bringing the technology to front plate. 
Rewalk is a robotic exoskeleton that provides people with spinal cord injuries hip and knee motion which helps them to stand up, walk and a variety of other movement. This
suit is claimed to the be "most customizable and most researched exoskeleton,". 
The technology is designed for everyday use in all kids of environments whether at home or work. The system allows the user mobility through an integration of computer based motion sensors and a wearable brace support. 
This system allows independent walking and movement that copies the natural walking pattern. The exoskeleton is a brace that is fitted around the legs and waist and a backpack, which acts as the processor. The accelerometer detects changes in the center of gravity and can create a sequence of steps if the weight distribution is repeated. 
Software in the backpack controls the steps and helps the brace mimic the natural walk patterns, different modes such as walking and standing can all be controlled with a wristwatch ReWalk's clinical trials have suggested that use of the exoskeleton could improve bladder function, decrease pain and body fat, and limit fatigue.
The trials have also suggested that the skeleton allows the users can move at up to 0.71 meters per second. 
The ReWalk is the sixth generation of this product and the current model, according to the company, offers better, customizable fits that focuses on the alignment of users joints for an enhanced experience.