New EXAIR Ionising Bar with improved performance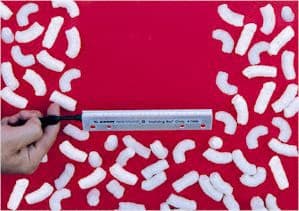 EXAIR's new Long Ionising Bars are now available to eliminate static electricity on paper, film and plastics that are up to 96" (2438mm) wide.
Static electricity can attract dust and foreign materials, ruin product appearance, produce tearing or jamming and zap personnel. 
The profile of the electrically powered Ionising Bar is compact, allowing it to fit in the confined spaces of machinery, where the static charge is generated. A high concentration of positive and negative ions produces fast static decay, neutralising any surface within 2" (51mm) of the bar.
The unique design of the shockless Ionizing Bar offers improved performance and reliability in industrial applications. Life expectancy has been extended by insertion molding the stainless steel ion emitters into a durable plastic. There are no openings or grooves to accumulate dirt that could cause shorting or arcing. A 5kV power source provides high performance, eliminating frequent burnouts commonly associated with traditional 7kV bars.
The Ionising Bar includes a five foot shielded cable with ground. A mounting flange is provided for easy installation and all components are fully assembled. Standard lengths up to 54" (1219mm) are available from stock and special lengths up to 120" (3.05m) are available by special order. EXAIR Model 7901, 7907, 7940 or 7941 Power Supply (5kV) is required for bar operation.
Compressed Air Australia
1300 787 688
www.caasafety.com.au