NEW ENERGY EFFICIENT POWERHOUSE FROM KAESER
04-03-2016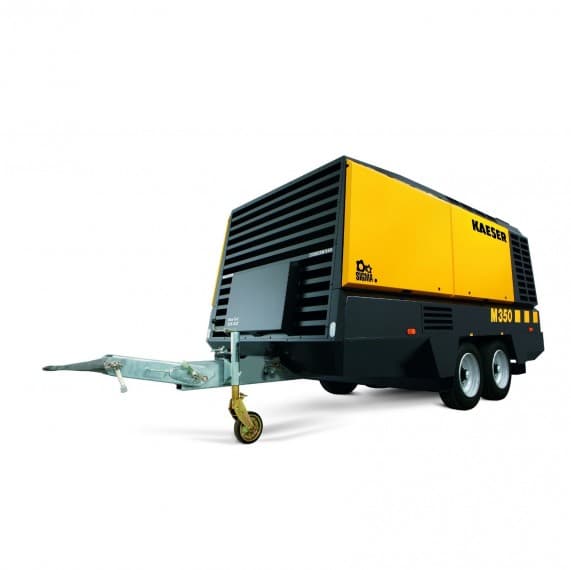 With a free air delivery of up to 34 m³/min, the Mobilair M 350 is the new powerhouse in Kaeser Compressors comprehensive portable compressor range.
Positioned in the highest performance tier, the Mobilair M 350 offers significantly more than just impressive compressed air power; it is also exceptionally versatile, fuel-efficient with a robust design.
The powerful combination of an economical Mercedes Benz engine and an efficient Kaeser rotary screw compressor block with proven Sigma Profile rotors provides impressive compressed air delivery with minimal emissions and fuel consumption. Developed by Kaeser and continuously enhanced ever since, the Kaeser Sigma Profile achieves power savings of up to 15 percent compared with conventional screw compressor block rotor profiles.
All Kaeser rotary screw compressor blocks feature this energy saving rotor profile and are designed to ensure maximum energy efficiency.
And the viscous fan clutch controlled via Kaeser's Sigma Control Mobile can cut fuel consumption by up to 5 percent.
Simple to use, the innovative Sigma Control Mobile compressor control system precisely matches power to actual compressed air demand. This significantly enhances both compressed air availability and fuel efficiency.
An extensive range of available options ensures outstanding versatility for near endless application possibilities.
The Mobilair is available with various pressures as well as a stationary version and specialised equipment for use in refineries. 

Air treatment components can be added to provide cool, dry, technically oil-free air of various classes to meet the special demands.
Despite these additional features and a 20 percent increase in compressed air delivery, the M 350 from Kaeser is barely heavier than its predecessor.
The Mobilair M 350 portable compressor from Kaeser is available in four pressure stages between 8,6 bar (flow rate 34 m3/min) and 14 bar (flow rate 24 m3/min).
For more information visit www.kaeser.com.au or Ph: 1800 640 611.