A NEW DOOR OPENS FOR BUSINESS DEVELOPMENT MANAGER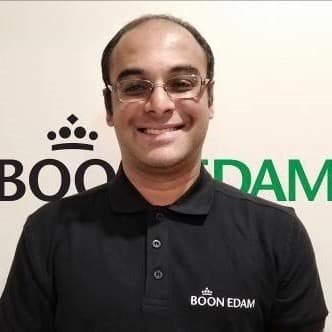 Darren Assey, Boon Edam Australia
Operating in 27 countries, Netherlands-based Boon Edam supplies security doors, gates and turnstiles to some of the world's biggest companies and public agencies. Since establishing a permanent Australian subsidiary, Boon Edam has steadily provided its Australian, New Zealand and Papua New Guinean customers with secure, functional and stylish entry solutions. As well as protecting their sensitive data, these customers are also seeking to fulfil their duty of care obligations by protecting workers and visitors, all without compromising their facility's aesthetics.
Boon Edam Australia is strengthening its operations with the appointment of a new business development manager. Darren Assey holds a BSc (Hons) and has more than 15 years' experience working with steel building product specialist Stramit and industrial building materials leader James Hardie, which he believes has equipped him for the technical nature of his new role.
"Boon Edam is at the forefront of entrance security," Assey says. "The company's products have the perfect blend of elegance and functionality, and they are constantly investing in new technology to lead the market. I'm excited to work with a globally leading company with more than 140 years' experience in the architectural revolving doors and security entrance industries.
"I'm particularly impressed with Boon Edam's solutions-focused approach to projects. They clearly understand that modularity is essential to delivering the best possible results to customers. In the highly sensitive and technical areas that Boon Edam works in, a one-size-fits-all approach would seldom be effective.
"A major advantage that Boon Edam has in the Australasian market is its dedication to world-class customer service standards previously unavailable locally. Boon Edam puts the customer and their solution first before, during and after the sales process. In my new role, I want to show customers that working with Boon Edam will be a transparent, honest and collaborative experience, and our service team will always be there to support them."
Boon Edam Australia Managing Director Michael Fisher says the appointment is a further step in expanding the company's services in the region.
"Mr Assey will develop new relationships with customers and potential customers that can benefit from Boon Edam's solutions-focused and service-oriented approach," he says. "I'm impressed with Mr Assey's analytical mind. He not only has the technical knowledge and background to step straight into this role, but he's willing to think outside the box to best serve our customers. His previous experience working with architects, buildings and engineers will be an asset to the company, because Boon Edam works closely with each of these specifiers.
"Mr Assey's expertise and dedication to 'solution selling' fit in well with Boon Edam's culture of long-term customer satisfaction. He's interested in gaining a deep understanding of the client's needs and then finding the optimal solution using the extensive resources of our long-established family-owned organisation."
Boon Edam Australia
1300 689 905
www.boonedam.com.au