NEW DISTRIBUTOR HEADLINES WITH SIEMENS INDUSTRIAL RANGE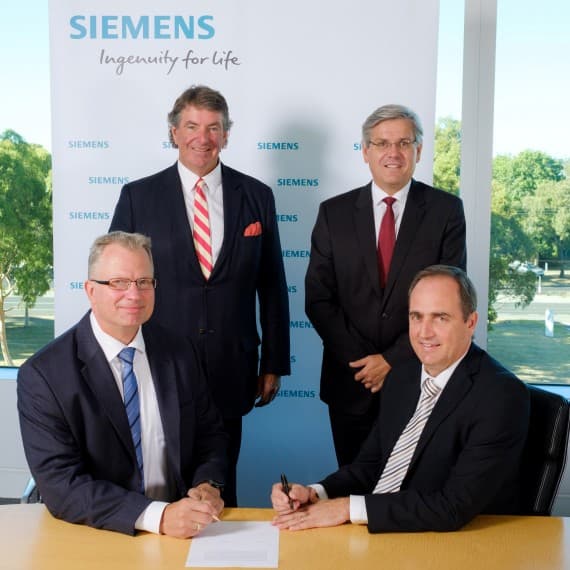 Michael Freyny, Head of Digital Factory and Process Industries at Siemens Australia and New Zealand and David Hegarty, MD of APS Industrial put pen to paper, watched by Lloyd Thomas, Chairman of APS Group and Jeff Connolly, CEO of Siemens Pacific
APS Industrial is a new name in the distribution of industrial low voltage electrical and automation products formed by experienced leaders from Australian industry and incorporating the existing businesses of Ramelec and HiTech Control Systems.
Heading up the new company are MD David Hegarty and Chairman Lloyd Thomas. Hegarty was formerly MD of Rockwell Automation Australia and New Zealand, while Lloyd Thomas was previously CEO of NHP.
APS Industrial will offer Australian customers the broadest portfolio of industrial low- and medium-voltage electrical and automation products within the region from its offices in Melbourne, Sydney, Adelaide, Perth and Brisbane, supported by strategic local stockholdings and expert technical and application knowledge.
Leading the APS Industrial product portfolio, the company has been made master distributor in the region for the full line of Siemens Industrial Automation products and solutions. APS Industrial also has key distributor partnerships with Weidmueller, Rittal and EPCOS/TDK, with more to follow.
Jeff Connolly, CEO of Siemens Australia, describes the new company as a 'game changer' in the Australian market. "APS Industrial is a major move that indicates how serious we are about long-term growth in the region. We've listened to customers and want to give them 'real choice' that delivers the best products, combined with the best customer experience. We see APS Industrial as an extension of the Siemens' family and the credentials of the board and senior management team speak for themselves."
"The setup of a master distributor ensures we can respond to and manage customer demand quicker than ever – especially in current fast paced market conditions. Customers will soon have access to the broadest portfolio in the industry for all their industrial electrical and automation requirements," added Connolly.
APS Group Chairman Lloyd Thomas is confident for the future: "With the onset of the digital age and Industry 4.0, Australian businesses – and indeed global businesses - will be reliant on the digital connectivity provided by technology partners in order to succeed in the future," he said.
"In Australia that partner will be APS Industrial. And with an experienced and accomplished customer focused leadership group, we look forward to growing our business together with our customers," Thomas concluded.
APS Industrial
1300 309 303
apsindustrial.com.au