NEW DISTRIBUTION AGREEMENT RAISES STANDARDS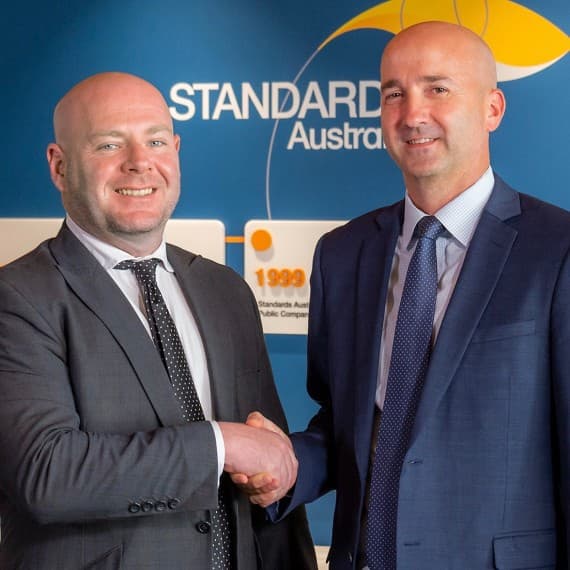 Adam Stingemore, Standards Australia and Jeroen Prinsen, Techstreet
Users of Standards Australia's publications will have greater access and choice following the organisation's new distribution agreement with Techstreet, a Clarivate Analytics company. Under the agreement, Techstreet will become an additional distributor of Standards Australia's content, including Australian Standards and other technical documents such as ISO and IEC materials. Users will soon be able to access this content through a new webstore and a subscription service to Techstreet Enterprise, Techstreet's standards management platform.
Techstreet Enterprise provides easy, immediate access to one of the world's largest collections of industry codes and standards, plus web-based workflow tools to help standards users manage mission-critical information and make better decisions faster.
Standards Australia Chairman Richard Brooks says the organisation explored a number of Australian and global publishers and distributors before appointing Clarivate's Techstreet as a new partner.
"Clarivate is a market leader in this space, with extensive experience in the distribution of technical content," he says. "We are excited about bringing choice to how customers access standards in Australia.
"This is an exciting step in improving access to Australian Standards, while allowing our organisation to build internal capability and develop external partnerships to deliver new methods of distribution.
"Ultimately, improving how we distribute our content ensures we serve our public purpose – to help industries work safely, sustainably and more effectively."
Techstreet Vice-President Todd Fegan says the company is extremely excited to expand its efforts to deliver more options and easier access to users of Standards Australia's content.
"We're pleased to become a distributor of Standards Australia's content and deliver better solutions together to help support Australian innovation and compliance," he says.
"For many years, Techstreet has been a trusted provider of industry codes and standards. We will continue our commitment to enhance our online library of engineering standards and related documents to create ongoing value for our customers."
Specific details of the changes as a result of this announcement will be outlined in coming weeks, including how to access the new webstore. Until then, sales enquiries for subscription customers should be directed to Andrew O'Brien, Head of Sales, Australia