NEW DIGITAL WASTEWATER TREATMENT SIMULATOR FROM BESTECH
27-01-2016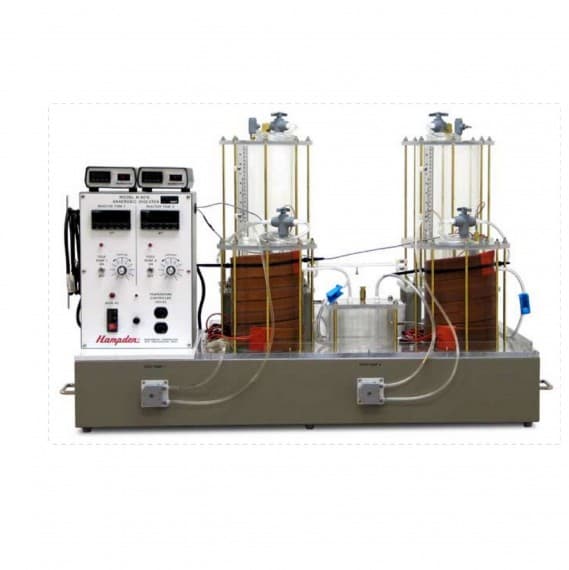 The modern sewer system is an engineering marvel, connecting businesses, homes and industries.
Complex systems of underground pipes transport wastewater (a mixture of domestic sewage, industrial effluent, occasional run-off of surface water and ground water) to sophisticated treatment plants.
These plants must return cleansed, purified water to the environment after multi-stage process extracting as much waste material as possible.
Treatment of wastewater began in the 19th century as a specialized process with very slight margins for error.
Over the years, the process has been refined and modified in many ways to accommodate specific needs; however, the basic plant does not vary greatly.
The primary concepts and structures can be taught and explored using this basic model which is compatible with virtually all modern treatment plants.
The Model H-DWTS-CSI Digital Wastewater Treatment Simulator from Bestech Australia is a PC-compatible computer controlled platform.
The operator monitors and controls every aspect of the treatment process including:
·       Inlet pump control
·       Grit removal
·       Primary sludge removal
·       Biological filtering
·       Chlorine mixer
·       Sludge management, etc.
The module's front panel displays both a complete schematic and pictorial of the system. All functions operate as on the actual equipment and present the student with realistic problem situations.
The settled wastewater enters aeration tanks where air is blown into the liquid to provide oxygen for mixing and to promote the growth of micro-organisms.  
The "active biomass" uses the oxygen and consumes organic pollutants and nutrients in the wastewater to grow and reproduce. 
From the aeration tanks, the mixture of wastewater and micro-organisms passes into a secondary sedimentation tank (also known as a clarifier) where the biomass settles under gravity to the bottom of the tank and is concentrated as sludge.
Some of this sludge is recycled to the inlet of the aeration tank to maintain the biomass, hence the name for the process – activated sludge. The remainder is pumped to anaerobic digesters for further treatment.
Hampden's Model H-6515 is a bench-top trainer designed to demonstrate the fundamentals of the anaerobic treatment processes. Anaerobic treatment processes are becoming more popular than aerobic processes in the water treatment industry due to the considerable advantages they offer.
Water and wastewater treatment is essential in to maintain its quality in consumption for drinking, daily public use, industrial processes, medicine, etc. These wastewater treatment testing systems focus on sustainable practices, trainees will develop an understanding of how environmental engineering principles are integrated into domestic sewage treatment systems, and how to develop practical outcomes to meet the growing changes in water industry.
Bestech
Ph: 03 9540 5117